Most vegans are probably aware of the fact that any cookbook by Isa Chandra Moskowitz or Terry Hope Romero (or both) is bound to be awesome.  Veganomicon was one of the first vegan cookbooks I got out of the library when my vegan journey began, and Vegan Cookies Invade Your Cookie Jar has been a well-loved staple ever since I picked up it on impulse one day at Barnes & Noble.  It also didn't take long for Appetite for Reduction to become a favorite.  Whenever one or both of these fab vegan ladies churns out a new book, it's full of wit, handy tips, and a boatload of recipes that threaten to make you drool all over the pages.
I don't mean for this to sound like a cookbook review, because it isn't, but man.  I've had such success with Isa and Terry's recipes lately that I can't help but gush a little.  Two that I've been eying for a long time that I finally tried over the last couple of weeks were Pasta Con Broccoli from Appetite For Reduction and Red Lentil Cauliflower Curry from Veganomicon.
Pasta Con Broccoli is one of those dishes that makes you ask, in capital letters, "WHY HAVEN'T I EATEN THIS BEFORE?"

It's spicy, it's garlic-y, and it's just about the simplest sort of pasta dish you could ask for.  You could serve it to a whole bunch of people, veg or omni, and they'd never know how perfectly simple it was because they'd be too hung up on how incredibly amazing it tastes.  It uses minced and sliced garlic, lots of broccoli, and broccoli stalks.  That surprised me a bit, because I'm one of those people who usually tosses or composts the stalks of things.  Now that I've tried it, though, I can't believe I'd never eaten broccoli stalks before!  There's certainly no reason to get rid of them; they're just as crunchy and delicious as broccoli florets.
Speaking of, a friend on Twitter mentioned broccoli slaw.  Has anyone tried this?  How do you make it, and is it good?
The curry wasn't nearly as photogenic, alas, but it was just as delicious.  Have I mentioned I kind of love lentils?

The cool thing about this recipe is that the ingredient list is a bit of a departure from other curries I've made.  The spice combination of cumin, coriander, curry powder, turmeric, and cinnamon seems traditional as far as Indian dishes go, but this curry had two things that surprised me: shallots and parsnips!  I've had shallots with cauliflower before, but this was my first time using parsnips in anything.  I'm a bit embarrassed to admit that I had to look them up on Wikipedia to even know what they looked like.  But I had success in finding one at the store and tossed it into the post as directed.  Mom and I ate the finished curry over simple basmati rice, and I had some Swiss chard on the side.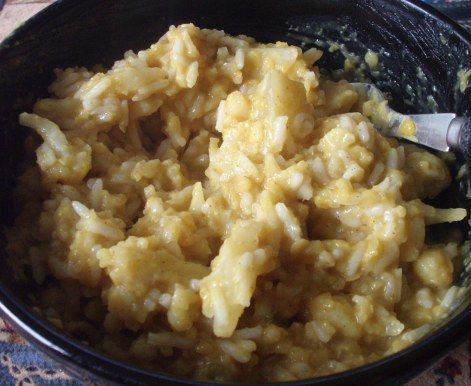 Totally classic Indian curry taste, though I did have to add some cayenne due to the mild nature of the curry powder I have on hand.  Other than that, I didn't change a thing, and I'm glad I didn't.  The recipe looks a bit daunting at first due to the long-ish ingredients list, but it turned out to be one of the easier Indian dishes I've made.  Out of everything, the cauliflower took the longest to chop.  Once all the components were ready, the curry itself came together without a fuss.  And trust me, it looks much cooler in person.
Question for the comments: What vegan cookbook could you absolutely not live without?