I was going to call this "Roasted Cauliflower & Zucchini Pizza," but after some thought I've decided to dub it "Pizza Irene."  Why?  Well, unless you're cozied up in a hobbit hole somewhere (and if you are, I envy you), you probably heard at least a little of the fuss about Hurricane Irene.  Honestly, when I first heard the reports, I thought everyone was making a big deal out of nothing.  I watched people zipping around the grocery store, stocking up on canned vegetables and, of all things, processed lunch meats, and couldn't help but feel that they were overreacting.  I expected the storm to peter out before it hit us and give us, at most, a wet and windy day.
Since I live at a slight elevation, we didn't make out too badly; just a little water in the basement and a small pond in our side yard.  Down the street a little ways, a stream that runs parallel to the road took a few chunks out of the shoulder.  For us, that was it.  Despite some hard core rain and wind during the day, we only lost power once for about five minutes.  The worst we went through was having to take the dog out in the wet.
I didn't fully realize how lucky we were until I saw this picture.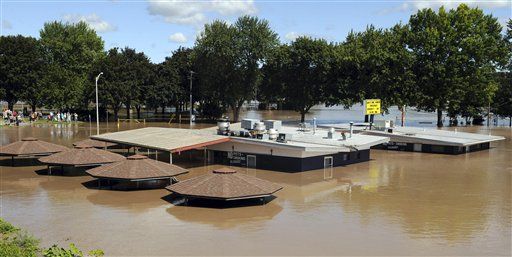 This is, or rather was, a popular drive-in type food place in Scotia called Jumpin' Jack's.  I drove by it multiple times in the recent past on the way to visit my grandmother, and couldn't believe my eyes when I saw the flood photos on the news yesterday.  This place was always full of people enjoying themselves in the summer weather, and I'm sure Labor Day weekend would have been a big one for attendance.  Then I saw the photos of flooding the Stockade area of Schenectady and the riverfront in Troy.  One is not far from where my grandmother lived and where both my parents grew up; the other is right next to where the Troy Farmer's Market is held.  Both of these are familiar places, and it's hard to wrap my mind around the idea that, for a short time, they were partially or completely underwater.  This morning there was news coverage of the aftermath and cleanup.  Instead of water, all of these places are now full of mud.  It's bewildering.
Farms have lost entire harvests.  Cars and campers were swept away while it was raining.  Entire towns have been devastated.  This sort of thing just plain doesn't happen in New York, at least not on a regular enough basis for anyone to be properly prepared for it.  It's going to take a mind-boggling amount of time to clean everything up, and all I can do is keep thanking God that my family got off so easily.  Thousands of others weren't so lucky.
I dedicate this pizza, which I made on the day Irene was dumping tons of rain over my area, to everyone who had it way harder than we did and who will need all the help and support they can get as they continue with cleanup efforts.  My thoughts and prayers are with them all.
Pizza Irene
makes one 8-cut pizza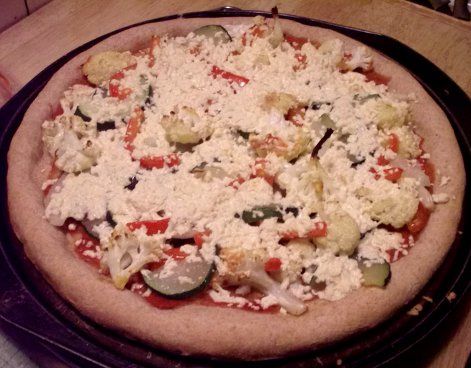 Ingredients
1 tbsp. olive oil
2 cups cauliflower, cut into florets
2 cups zucchini, sliced into half-moons
1 cup onions, sliced into half-moons
1 cup peppers, cut into strips
6-8 garlic cloves, peeled and left whole
1 recipe your favorite pizza dough
sauce of choice
1 cup shredded vegan mozzarella
Directions
1) Preheat the oven to 425°F.  In a large glass baking dish, combine the vegetables and olive oil until all the vegetables are well coated.  Place in the oven and roast for 12 minutes.
2) While the veggies are roasting, spread the dough in a pizza pan.  When the veggies are done, give them a stir, return them to the oven, and place the pizza dough in as well.  Cook for 8 more minutes, until the veggies are looking roasted and the dough is beginning to puff up.
3) Carefully remove both the veggies and the dough from the oven.  Spread sauce on the dough, add any desired seasonings, distribute the roasted veggies evenly on top, and sprinkle the cheese over everything.  Return to the oven and bake for 12 minutes more, until cheese is melted.