For as long as I can remember growing up, my brother never wanted cake for his birthday.  Instead, his dessert of choice was mocha brownie torte, hailing from the orange Betty Crocker cookbook that just about everyone in my generation seems to have had in their kitchen.  Printed in the '70s and held together in a hardback binder, that cookbook was synonymous with every special occasion that required baking in my house.  The Christmas cookies, birthday cakes, and apple pies of my youth all came straight from that ubiquitous orange book.
Now, of course, I look back in surprise and occasionally horror at the sheer volume of animal products in those recipes.  But instead of freaking out, I see it as an opportunity to take old favorites and update them into new vegan creations.  As an aside, I never actually liked mocha brownie torte when I was a kid.  I disliked anything with coffee until sometime in my mid-teens.  (I suspect that secret caffeine receptors start developing in your brain during puberty.)  By then, my lactose intolerance was bad enough that any dessert involving too much dairy was a stomachache waiting to happen.  So I had to wing it when I went about trying to veganize my brother's favorite torte, going on what I remembered from the couple of times I did try the original.
The first time was last year, and I'm not going to talk about what a disaster it was.  I had no idea what I was doing when it came to vegan whipped topping and wound up with runny mocha sauce.  My brother enjoyed it anyway, but I was horrified.  This year I wised up and got myself a box of Soyatoo whippable topping.  It's pretty much solid fat, so I wouldn't use it all the time, but for the torte it did the trick.  It whips up fluffy and the instant coffee that gives the dessert its characteristic "mocha" flavor incorporated without any grainy bits.
The original torte recipe calls for a batch of boxed brownies, but any dense vegan brownie will do.  I went with the Espresso Fudge Brownies in Vegan Cookies Invade Your Cookie Jar, eliminating the espresso powder and substituting whole wheat pastry flour for all-purpose.  Baked for about 18 minutes in a metal pan, they have a pretty authentic taste and texture.  For a full-sized torte, use two 8″ round cake pans to bake the brownies.  One 8″ square pan makes a half-sized torte (halving the recipe, of course), which you can either frost as is or cut into two rectangles to make layers as pictured below.
Mocha Brownie Torte (cut in half for smaller torte):
makes 15 big slices or 30 small ones
adapted from Betty Crocker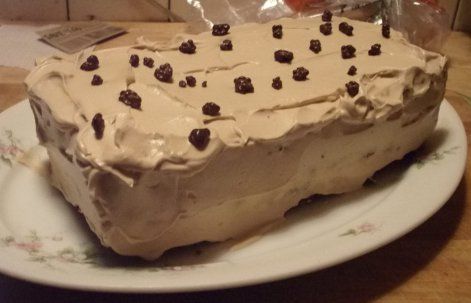 Ingredients
1 double recipe of your favorite brownies, baked & cooled (use metal pans, 8″ round or square)
1 box Soyatoo whippable topping
1/3 cup brown sugar
1 tbsp. instant coffee
chocolate chips or cocoa nibs
Directions
1) In a chilled bowl, whip the topping until it starts to thicken.  Add the brown sugar and coffee; whip again until topping is thick and takes on a light coffee color.
2) Spread a generous amount of topping over one layer of brownies.  Top with the second layer and spread remaining whip over the top and sides.
3) Sprinkle with chocolate chips or cocoa nibs and serve.  Store leftovers in the fridge.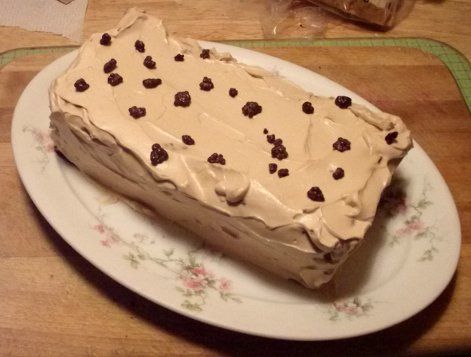 Easy, right?  Good thing, too, because this year my brother requested a rather labor-intensive main course for his birthday dinner.  Not that I mind; I love an excuse to putz around in the kitchen.  And I love cooking for him, and he loves to eat, so it all works out.  In fact, I'll let you in on a secret: my brother was the one who first started the family on our current trend of healthier eating.  Long before I went vegan, he was reading up on food and nutrition, changing his own diet to include more raw foods, and moving away from refined, processed junk.  Now that I'm more conscious of all of that, too, we share articles and information that we come across, and I think my health and diet are better for it.
So.  Main course.  When I asked my brother what he wanted for his birthday dinner, he was fairly specific: vegetable lasagna with zucchini noodles, tofu ricotta, and some kind of vegan "meat."  Between produce from my dad's garden, stuff from the farm stand, and recent sales on both tofu and Field Roast sausages, the Quantum Vegan kitchen was more than equipped to put together just such a lasagna!
I went back to The Clueless Vegetarian for inspiration.  Many, many years ago, I made the Mutli-Vegetable Lasagna for my brother's birthday, using polenta noodles and dairy cheese.  It's pretty easy to veganize, and I've posted my adaptation below.  As far as the zucchini noodles go, you need to drain the water out a bit with salt, paper towels, and a weight of some kind on top or the lasagna will turn out hopelessly soggy.  Just draining them results in a noodle with a bit of crispness to it, but you can steam them a bit beforehand to soften them up (be sure to blot off any excess moisture).  Cutting the zucchini thinner would probably also work if you have a mandoline slicer or something similar that will do the job better than a knife.
One more note: this lasagna doesn't hold together like one with traditional noodles will.  I recommend a big knife and spoon for serving!
Zucchini Noodle Lasagna
serves 8
adapted from The Clueless Vegetarian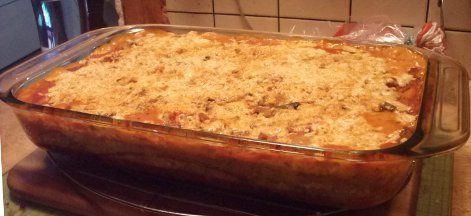 Ingredients
1 large zucchini, sliced lengthwise into approximately 15 "noodles"
sea salt
2 tbsp. olive oil
1 medium onion, chopped (about 1 cup)
3 cloves garlic, squished
1 cup coarsely chopped mushrooms
2 vegan sausages (I used Field Roast), cooked & crumbled
1 medium carrot, diced
1 cup bell peppers, any color, diced (a mix of colors looks nice)
4 cups spaghetti sauce, bottled or homemade
1 cup water
2 cups chopped raw kale
2 cups your favorite vegan ricotta (I went with the Veganomicon recipe)
1 tbsp. cornstarch dissolved in 1 tbsp. water (this helps it to set a bit)
2 tbsp. chopped fresh parsley
3 cups shredded vegan mozzarella
vegan Parmesan, for garnish
Directions
1) In a metal colander, layer the zucchini noodles five at a time.  Sprinkle with sea salt.  Place a paper towel on top of the layer, then repeat until all noodles have been layered and salted.  Place a heavy bowl in the colander and allow the noodles to drain for several hours.
2) Preheat the oven to 350°F.  Ready a 9×13 baking dish.
3) Heat the oil in a large saucepan over medium heat.  Add the garlic and onion, cover and cook until the onion is transluscent, about 5 minutes.
4) Add the mushrooms, cooked sausage, carrot, and bell peppers.  Cover and cook for 5-8 minutes or until carrot begins to soften, stirring occasionally.
5) Stir in the spaghetti sauce, water, and salt and pepper to taste.  Lower the heat and simmer for about 10 minutes.  Add the kale, give it a good stir, and cook for 5 more minutes, until the kale is wilted.  Remove from heat.
6) In a small bowl, combine the tofu ricotta, cornstarch mixture, and parsley.  Set aside.
7) Spread 1 cup of sauce in the bottom of the baking dish and cover with 5 or so zucchini noodles.  Spread 2 cups of sauce on top of the noodles, then follow that with half of the tofu ricotta.  Sprinkle with 1 cup of the mozzarella.  Repeat: 5 more noodles, 2 more cups of sauce, the remaining ricotta, and another 1 cup mozzarella.  For the last layer, arrange the remaining noodles, top with the rest of the sauce, and sprinkle with 1 cup of mozzarella.  Dust a little vegan parm over the top.
8) Cover the whole thing with aluminum foil and bake for 30 minutes.  Remove the foil and bake for 15 minutes more, until hot and bubbly.  Let sit for a few minutes before serving to cool and set.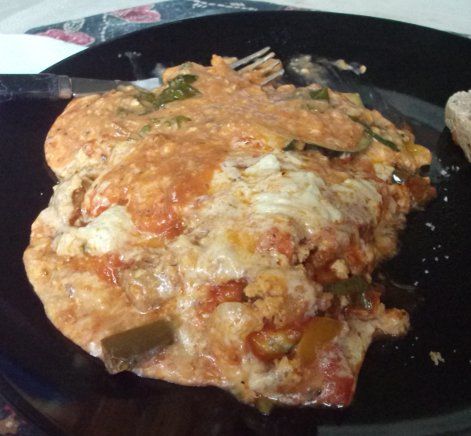 Question for the comments: What "old favorite" dishes have you veganized recently?