I don't cook from Vegan Yum Yum
nearly enough.  It's a really fun book, but the recipes are sort of random.  Gnocchi and black bean burgers share space with vegetable fried rice and African yam stew.  Meal components don't always have suggestions on what else to serve them with, and the salads are all over the map.  But even though the setup makes it kind of hard to pick coordinating recipes, its uniqueness is part of what makes the book fun.  Some of my favorite recipes–like Rainbow Beans and Rice and Lime Peanut Noodles with Seitan, Carrots, and Kale–lurk between its pages.  So I don't suppose I should be surprised that, no only is there a recipe for a cauliflower bake, it turned out to be one of the tastiest things I've made in a while.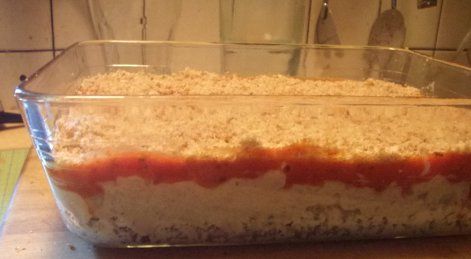 The ingredients list and the prep look a bit daunting at first, because everything is done in layers.  Bottom: simple tofu ricotta.  Middle: steamed cauliflower in white sauce.  Top: marinara sauce and bread crumbs.  I'll admit that I cheated and used Newman's brand marinara instead of making the sauce in the recipe.  I did, however, make my own bread crumbs by tossing a couple of slightly stale pieces of bread in the food processor and pulsing until they crumbled.  It worked out to exactly one cup of crumbs, as per the recipe!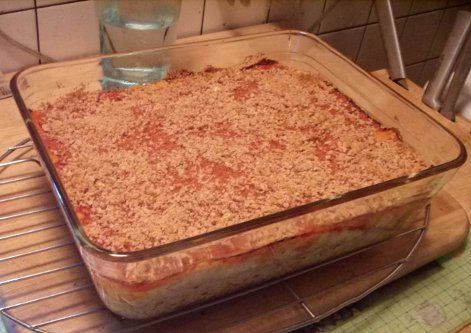 Have I mentioned my current love affair with cauliflower?  I really love it.  Which is rather strange because, when I was a kid, I literally couldn't eat the stuff.  I tried it more than once and wound up gagging before I could swallow.  But now?  Bring it on.  Raw in salads, cooked in stir fries, mashed up as vegan ricotta or with potatoes, and of course in curries.  (And since the grocery store is now stocking huge heads of locally-grown cauliflower $1/head cheaper than the plastic-bagged kind, I've been buying an awful lot of it.)  Steaming brings out a particularly nice side of cauliflower, coaxing from it an almost buttery scent that permeates the kitchen and wound up being an integral part of this bake.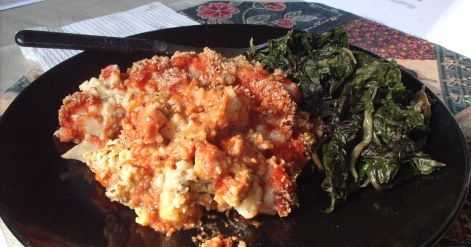 In fact, the only thing missing from the dish was something green.  I cooked up some Swiss chard as a side, but any greens could be lightly steamed and tossed right into the bake, preferably above the tofu layer.  Kale or rainbow chard would work quite well.  The bake itself was creamy, almost cheesy, and nearly indistinguishable from traditional baked pasta dishes.  With gluten-free breadcrumbs instead of regular ones, it would make a great gf alternative to pasta.  Or, you know, dinner on any day that you've been sucking down bread and still want something full of tomato-cheese goopiness.  It is, dare I say it, cauliflower-filled comfort food.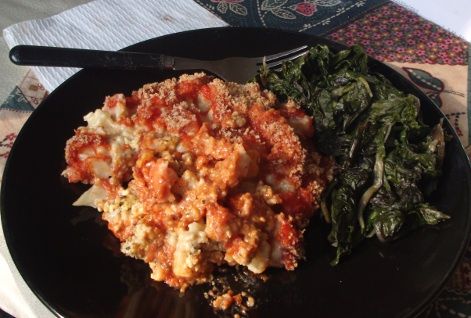 Seriously.  Feed this sucker to omnis and they'd never know.