I am most certainly a sucker for cookbooks.  Among (many) others, I have Veganomicon.  I have Appetite for Reduction.  I have Vegan Cookies Invade Your Cookie Jar.  So why do I not have Vegan Cupcakes Take Over the World?
Well, I have a bit of a confession to make: cake scares me.  After going through the whole ordeal with anorexia and bulimia, I've had a really hard time making peace with high-calorie dessert items like cake, pie, and full-sized cupcakes.  Cake and pie recipes that say they serve 8-12 need to be cut to serve 24-30 for me to be comfortable with them.
On a note that's not quite so serious, I've also found that eating a lot of sugary food, like a slice of cake or even part of a full-sized cupcake, makes me sick to my stomach.  I enjoy desserts, but since I started eating more whole foods and getting my sugar in the form of fruit rather than treats, my body just doesn't seem as comfortable with large amounts of baked goods.  So what to do when I really do feel like having cake?
Enter the wonder that is mini cupcakes.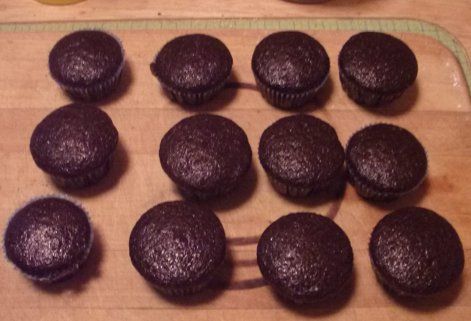 Cute, no?  One-third the size means no freaking out for by brain or my stomach, plus a little extra caloric wiggle room for frosting and filling experimentation.  After getting a copy of, yes, Vegan Cupcakes Take Over the World out of the library, I decided it was essential to have cupcakes.  So like any self-respecting foodie, I immediately used a little Google-fu to locate inexpensive mini-muffin tins and really adorable liners with rubber duckies on them.  Once they came, I started playing around with the basic chocolate cupcake recipe and its many variations.
I eventually settled on chocolate with peanut butter "buttercream" filling, chocolate ganache, and more buttercream on top.  The cupcakes were small enough that I could just stick the end of the piping tip in the top and squeeze filling down the center.  Then I topped them with ganache as per the recipe and went to break out a fancy decorator tip for the finishing peanut butter touch.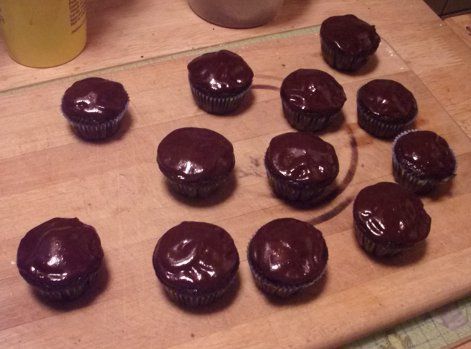 It's been so long since I used our cake decorating kit that I misjudged the size of tip I would need to easily add a dollop of buttercream to the tops of the cupcakes.  This resulted in rather messy peanut butter "flowers," which I made a bit more presentable by sizing up the tip and going over them again with more frosting.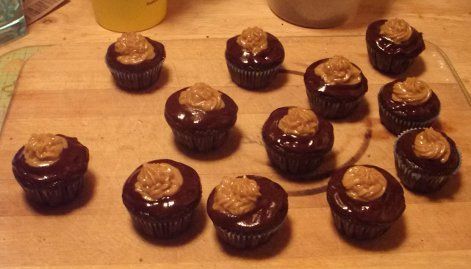 The result was a little lopsided, but oh-so-tasty!  Moist chocolatey cake part, creamy PB filling, and melty ganache all together in one amazing little cupcake.  Of course, if you're not adverse, these would be extra-amazing at full size.  But possibly not advisable for eating all in one sitting.  There are a lot of sweet, goopy dessert-type ingredients in them!  At mini size, they're basically a bomb of shameless chocolate and peanut butter flavor.  I wound up storing them in the fridge so the frosting and ganache wouldn't melt in the warmth we're still having, and they're just as good cold as they were fresh.
I'm still not sure I'll buy the cupcake book.  But I had a lot of fun making these!