Hold onto your hats, QV readers!  The dinner in this post used not one, not two, but three different recipes from three different cookbooks.  Yep, I cooked three things for one meal!  Maybe I'm a little too excited about that, but I was proud of the fact that I was able to coordinate everything.  Does it count as cheating since I made two of the things ahead of time to minimize the rush around dinner?

The first and most labor-intensive of the three was a black bean and bulgur loaf from 1,000 Vegan Recipes
.  I've been wanting to try bulgur for a while and, just my luck, the co-op had a great sale on it for July–58 cents a pound!  I got an entire pint jar for less than 50 cents.  Of course, once I had it I went off in search of something to use it in, and the loaf recipe sounded like just the thing.
As far as vegan meatloaf analogues are concerned, this one's pretty straightforward.  Mashed black beans, oats, a little nutritional yeast, some Italian-style spices, vital wheat gluten and, of course, cooked bulgur.  I really liked the way the bulgur smelled when it was cooking.  It had an almost nutty smell and was as simple to make as rice.  Once that was cooked, it was just a matter of mixing everything together to make a loaf. (I used my hands.)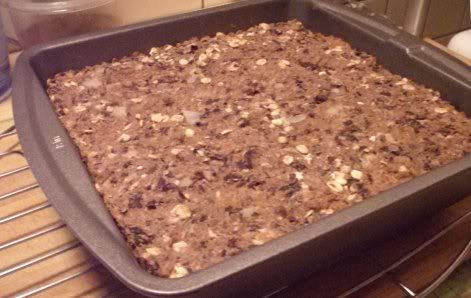 I know, that's a square and not a loaf!  But I didn't have the size loaf pan that the recipe called for, and didn't want to risk it coming out mushy in the middle.  So I used the handy pan substitution chart in the back of the cookbook to see what I did have.  Turns out you can use an 8×8 baking dish in place of a 9-inch loaf pan.  Pretty neat, huh?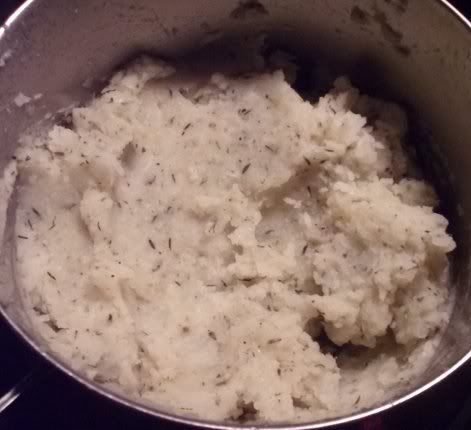 Recipe two, Caulipots!  You read that right: mashed cauliflower and potatoes, straight from Appetite for Reduction
.  After the amazing experience of ginger mashed sweet potatoes and apples, I figured it would be hard to go wrong with another recipe for mashed stuff from this book.  I went with the garlic herb variation, hence the flecks of green.  Cauliflower has an oddly interesting aroma when it's cooking, which made the kitchen smell extra good.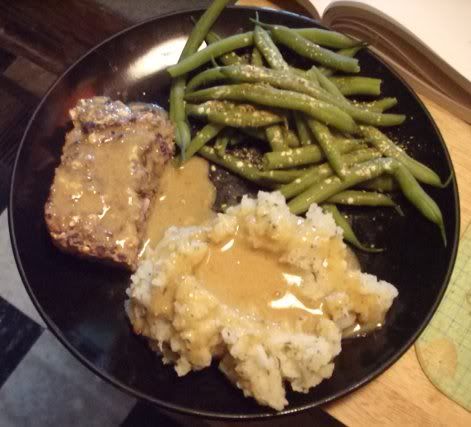 The third recipe wasn't a dish or a side dish, but gravy.  The bulgur loaf recipe suggested serving it with brown sauce from the same book, but I didn't like the combination of ingredients.  Instead, I pulled out The Happy Herbivore Cookbook
and whipped up a batch of basic gravy.  Yet another great smell!  I made this ahead of time along with the bulgur loaf, so all I had to do when dinner rolled around was pop the loaf in the oven and heat the gravy back up.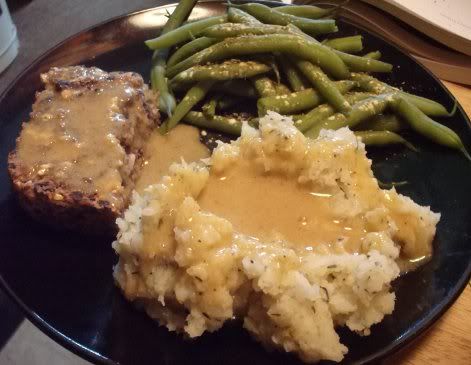 And what a meal it was!  The caulipots were lighter than regular mashed potatoes but just as fluffy, and the garlic was a nice touch.  The bulgur imparted a nutty flavor to the loaf, similar to the way it smelled while cooking, and the vital wheat gluten held it all together in a way that was decidedly like regular meatloaf without the scary ground beef texture.  Having gravy was a nice touch, too.  I don't think I've eaten gravy since before going veg, and now I wonder why.  It was delicious and really pulled everything together taste-wise.  All in all, it made a hearty meal that was relatively simple despite involving so many recipes.
In case you were wondering, the bean and bulgur loaf tastes absolutely amazing left over.  I sliced some up today, browned it in a pan with a little olive oil spray, and served it with BBQ sauce as part of my lunch.  Mmmm.  I might wind up making a sandwich out of the remaining piece!