Since it was ridiculously hot outside last week, I spent my dinner planning time on the hunt for cold food.  After one night of pasta bean salad and another of chickpea tuna sandwiches, I was at a bit of a loss.  All I knew was that I wanted some kind of rice salad.  I'm so used to cooking hot meals that I wasn't able to come up with a combination that sounded good chilled.
Fortunately for me, Vegan Fire & Spice yielded just the sort of thing I was looking for.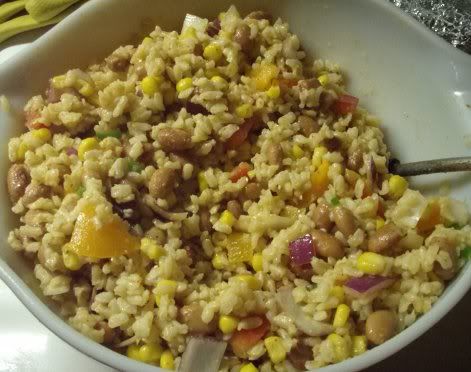 A delicious brown rice salad with pinto beans and cumin vinaigrette!  The recipe itself was very basic: rice, beans, corn, red onion, and a few minced hot peppers.  Abandoning my usual practice of making a recipe as written the first time around, I added some chopped bell peppers for color and used a bit of fresh cayenne pepper instead of the suggested jarred jalapenos.
Where, you may wonder, did I get a fresh cayenne pepper?  I'd like to say that it was from the garden, but the pepper plants at the Quantum Vegan household are far from ready.  However, there's a small farm stand not too far down the road that I'd never been to before.  On my way home from the local coffee house, I decided to take a look.
I wasn't disappointed!  There was everything a foodie could want at this time of year: tomatoes of all sizes from grape to jumbo Brandywine, green and yellow summer squash, onions, green peppers, and a basket of huge cayenne peppers.  I picked up several things, including the cayenne and a pint of grape tomatoes, for a far more decent price that I ever would have gotten on organic produce at the grocery store.
But back to the salad.  Much as I love all things Robin Robertson, I couldn't leave the dressing the way it was.  1/3 cup of olive oil is far beyond what I'm able to handle, and I definitely didn't want the salad to be swimming in it.  So even though I left everything else the same, I reduced the oil to two tablespoons.  Believe it or not, that wound up being enough.  The other ingredients–lime juice, cumin, chili powder, cayenne, and a little agave nectar–gave the salad just the right amount of flavor without necessitating a huge amount of oil.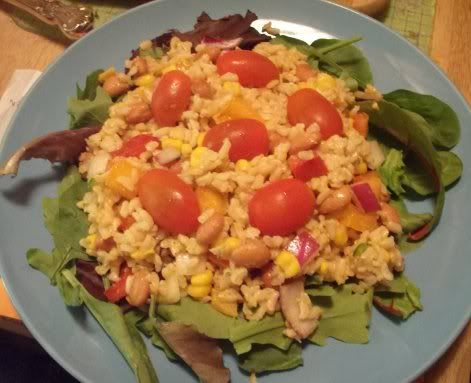 For serving, the recipe called for a romaine lettuce base and cherry tomato garnish.  I must confess that I rarely serve anything "on a bed of greens;" it seems more like a restaurant practice than something people do at home.  (Those of you who do serve things this way, feel free to giggle at me.)  But I'm glad I listened and did it anyway.  We always have Olivia's organic salad mixes around, so that became the bed of greens, and I halved a few of the grape tomatoes from the farmstand to put on top.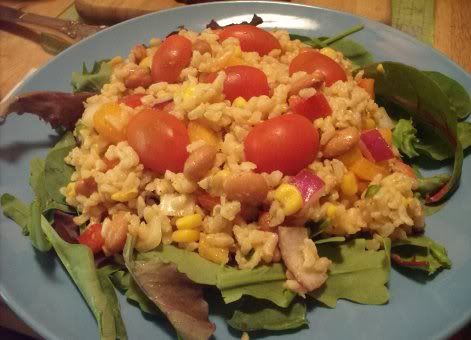 I really enjoyed making and eating this salad.  It's the perfect sort of thing to bring to potlucks or serve at picnics, since there isn't anything in it that would go bad in the heat.  I'd imagine it would also be a great way to use up leftover rice.  They're predicting another heat weave around here, so I think this one will be appearing on my family's table again in the near future.
Question for the comments: What's your favorite thing to make with cold rice?
I also want to say a big thank you to LJ at Veganlicious for featuring me yesterday!  It was great to be part of another awesome vegan blog.  Go check it out!