You know that book, The Best Veggie Burgers on the Planet
?  With 101 recipes for burgers, patties, condiments, sides, and buns of all kinds for anyone who's completely addicted to veggie burgers?  If you haven't at least flipped through it, you are seriously missing out.
This is a book for the veggie burger connoisseur.  Every corner of the globe is represented, from the good ol' US of A to strange and wonderful combinations from the far reaches of Asia.  As someone who's more than slightly obsessed with trying every possible homemade veggie burger out there, I knew I had to get a look at this book!  Thankfully my local library system is pretty well stocked when it comes to vegan cookbooks, so I was able to request it and get a preview, as it were, before buying.  (It's a good thing the library doesn't charge for interlibrary loan, or I'd be one poor Sammie!)
101 recipes isn't a lot compared to some of the other books I have, but since every one is a burger or something burger-related, it was very, very hard to decide what to make first.  There are breakfast burgers (think vegan omelets and thick breakfast "cookies"), burgers meant to be eaten without buns, burgers to eat in wraps or pitas, and the types of burgers you'd expect a stereotypical granola hippie to enjoy.
Eventually, I settled on the "meatloaf" burger which, I later realized, is the one pictured on the book's cover.  Subliminal much?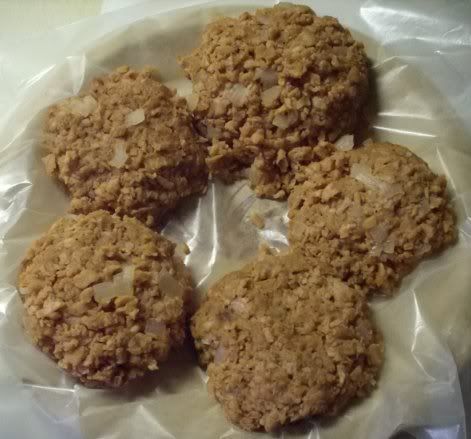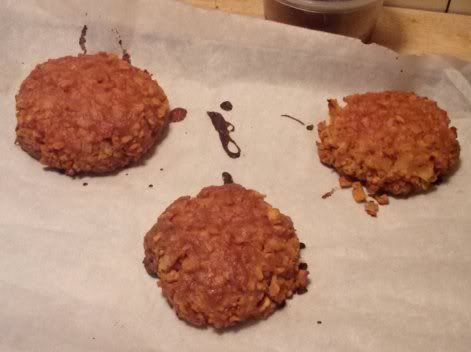 The majority of the burgers in the book call for TVP, and that was the primary basis for these.  After reconstituting it in vegetable broth, you mix it together with several ingredients commonly associated with meatloaf: sauteed onion and garlic, ketchup, onion powder, garlic powder, and the like.  Vital wheat gluten binds it all together.  Once mixed (by hand), the final product is disconcertingly meatlike, which might freak you out if you don't like touching anything that reminds you of meat.  It even smells sort of meaty, but since it's a meatloaf burger, I think that's probably the point.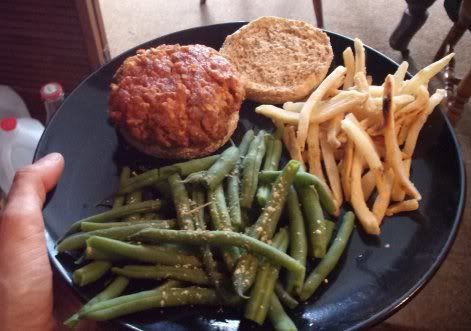 I can't say it was a bad thing in the end, because it wasn't!  These are great burgers if you like a juicy, chewy texture.  The name is apt, too, since they do taste rather like meatloaf.  Instead of being grilled or pan-fried, they're baked in the oven and get basted with ketchup halfway through cooking time, hence the reddish color.  I wasn't sure that the 30 minute cooking time was enough, though; there were still a few strands of gluten in the middle that didn't taste quite cooked to me.  But they were delicious anyway.

My only caution with this book is to do your own math before making the patties.  Most of the recipes state that the mixture makes 8 burgers, but I found this yielded a patty roughly the size of a small planet.  I made 6 patties from half a recipe of the meatloaf mix, and they were still pretty substantial.  So depending on who you're feeding and how much you personally want to eat, you might want to play around with burger size a bit.  Same goes for the buns in the latter part of the book; if you like big buns (pun intended), the suggested yield is fine.  It's been too hot for me to experiment with making smaller sizes, but I'd imagine they'd come out just fine.
Question for the comments: What's your favorite veggie burger (homemade or storebought)?