So, it's ridiculously hot out.  This seems to be the case across the better part of the country, making it a perfect week to eat cold food. (I'll give the raw foodists an open license to point and giggle at the rest of us while they stay cool in their kitchens.)  One of the first cold dishes I made in quantity after going vegetarian was the amusingly-named "Gazillion Bean Salad" from Evelyn Raab's The Clueless Vegetarian
, so that's what springs to mind when the heat of summer rears its head.
Gazillion-bean salad, however, has a few problems, namely a dressing calling for an entire half cup of olive oil.  It also isn't a dinner item in and of itself; it's meant to be a side dish.  The moment it came to mind, I knew I was going to have to make a few tweaks.  I replaced some of the beans with whole wheat shell pasta, dialed the oil down to two tablespoons (believe me, it's enough), and used agave to sweeten the dressing rather than sugar.  A few steamed collards made a delicious and attractive green bed for the whole thing.  The result was light, satisfying, and hardly required any cooking.  The best part is that you can make the salad ahead of time before it gets too stupidly hot to do anything in the kitchen.
Lightly Dressed Pasta & Bean Salad
serves 4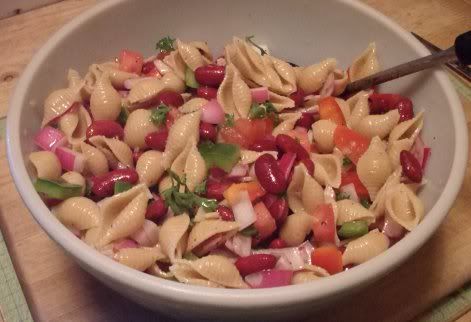 Ingredients
8 oz. small whole wheat pasta, like shells or elbows
1 1/2 cups or 1 15.5oz can dark red kidney beans, rinsed and drained
1 cup red onion, chopped
1/2 cup red bell pepper, chopped
1/2 cup green bell pepper, chopped
1/2 cup parsley, chopped
2 tbsp. olive oil
1/3 cup apple cider vinegar
1 garlic clove, pressed or grated with a microplane grater
1 tbsp. agave nectar
1/2 tsp. pepper
salt to taste
greens of choice–collards, kale, chard, spinach, whatever you like!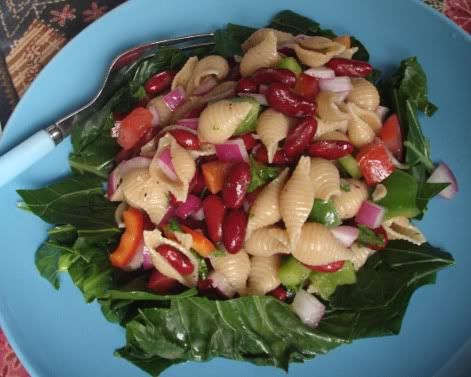 Directions
1) Cook the pasta according to package directions. Drain and rinse under cold water. Place in a large serving bowl.
2) Add the beans, onion, bell pepper, and parsley to the pasta.
3) In a small bowl, whisk together the oil, vinegar, garlic, agave, pepper, and salt.
4) Pour the dressing over the pasta, beans, and veggies and mix well. Refrigerate until thoroughly chilled.
5) Right before you're ready to serve, lightly steam the greens. You can chop them or keep the leaves whole. (4-6 cups ought to do it if you use chopped.) Make sure to steam them only until they turn bright green.
6) Plate the greens and serve the salad over the top.  A little vegan parmesan makes good garnish!