The co-op I frequently shop at is situated on a long stretch of road that runs between Albany and Schenectady.  All along the road, there are a bunch of shops, including ethnic markets.  Including, more specifically, an Asian market called Kim's that I used to shop at but haven't gone to in ages.  I'm either in too much of a hurry or I drive past or I'm just plain not thinking about it.
I finally stopped there with my mom over the weekend and realized what a silly mistake I've been making in passing it by.  It's not a very big store, but it has everything a lover of Asian food could ever want, in quantity, and at amazing prices.  Mori-Nu tofu, eighty cents per box cheaper than the supermarkets.  2lbs. of soba noodles for less than what I've been paying for 8 ounces.  More Asian noodles and condiments and veggies than you can shake a stick at.  Thus begging the question, why the heck do I not go to this place more often, and why have I not yet visited the other ethnic markets on the same street?
I wonder if it's partly a matter of familiarity.  At the grocery stores nearer to home, I know where everything is, roughly what it costs, and what to expect when I go there.  Ethnic markets are a bit more of a challenge when it comes to finding specific items, but my brief reunion with Kim's showed me that it's more than worth the time.  Not only did I take advantage of the deals on Mori-Nu and soba, I also grabbed quite a lot of bok choy for not a lot of money.  And the presence of Asian veggies in my house inevitably leads to an "everything in the fridge" stir fry.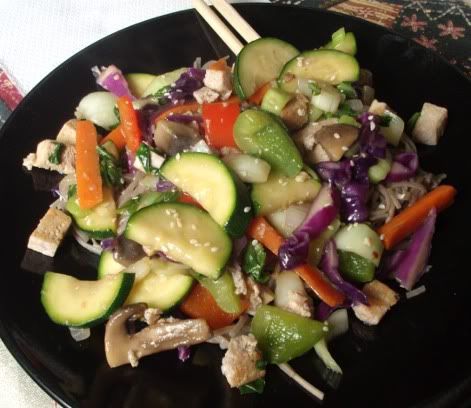 Soba noodles and bok choy from the market, along with onions, peppers, mushrooms, carrots, zucchini, and red cabbage from the fridge, with a simple vegetable broth/liquid aminos/cornstarch sauce.  Oh, and garlic and ginger and hot pepper flakes, of course.  Next time I head back to Kim's, I'm going to have to take a closer look to see what other treasures I can find.
Question for the comments: Is there an ethnic market that you love to visit?  What do you buy there that you can't find anywhere else?