Wow, I logged in today and was greeted by the fact that, since moving to this domain, the blog has gotten over 5,000 views!  Thanks everyone! <3
On another note, I've been cooking from Appetite For Reduction again.  That's probably not too surprising in and of itself, but guess what?  I cooked not one, but two things simultaneously!
It helps that the book makes it easy to coordinate timing between dishes that it says taste good together.  Even I, the queen of one-pot cooking, can get everything to finish at the same time and be edible.
All right, I'm exaggerating a little about how difficult that is.  But when you're used to tossing everything in a pan and letting it cook itself without much babysitting, coordinating two or more dishes can be a challenge.  I think that's the hardest part of learning to cook, personally.  Timing the chopping, sauteing, boiling, cooking, and simmering of two or more meal components isn't, in my experience, all that intuitive.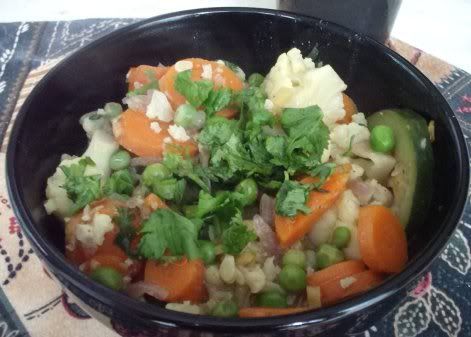 These two dishes worked out very well, though.  It was easy to throw the veggie korma together while the biryani was cooking.  Although there was a lot of chopping involved, it went quickly.  The korma had, among other things, carrots, zucchini, and cauliflower along with a sauce of vegetable broth and light coconut milk.  I was expecting a thicker sauce, maybe because I'm used to curry, but the thinner consistency was okay since it got served over the biryani and the rice soaked everything up.
As a side note, I really need to get spicier curry powder.  The stuff I have on hand tastes good, but has absolutely no heat to it.  I like my Indian food spicy and wound up sprinkling my own serving of korma with a little cayenne.  I am glad, however, that I've been keeping fresh cilantro in the house, because I adore it as a garnish.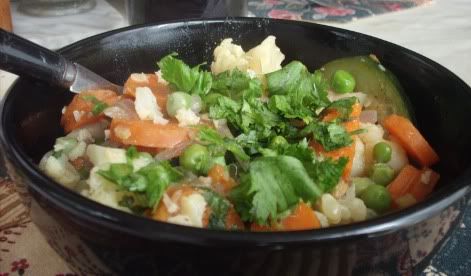 And speaking of the biryani…yum!  I used regular brown rice since I didn't have any brown basmati, and it was delicious anyway.  (I'm guessing basmati would make it even more exceptional.) Cooked up with Indian spices, carrots, peas, cashews, and dried cranberries, it came out a lovely turmeric-yellow color.  I've liked fruit and nuts in rice since the first time I had a wild rice, cranberry, and walnut salad from the local co-op, and the biryani was just as delicious.  I think I could have stood to cook it for about five more minutes to firm the rice up, but I got impatient and wound up with damp biryani.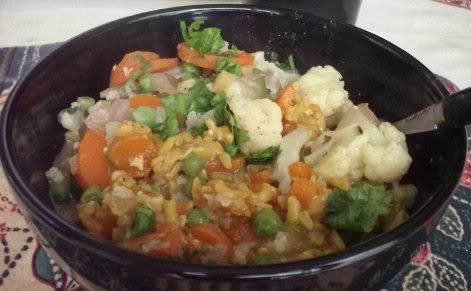 Again, it didn't matter much since there was korma sauce involved.  Everything went well together, and I think each dish would also taste pretty great on its own.  The korma could be a meal in itself with the addition of a few chickpeas and maybe some work with an immersion blender to make a curry-like sauce.  And the biryani would make a fantastic addition to a potluck.  Personally, I'd even eat it cold for lunch!  Chilled rice with fruit and nuts?  Love it.  (And, of course, now I'm going to have to try it!)
By the way, have you seen the fantastic new blog by JL of JL Goes Vegan?  She's started a community blog called Stop Chasing Skinny, full of inspiring stories from women who have moved beyond the number on the scale to find true contentment with their body shape and size.  I have a post up today, and there are other great things to read, with more to come.  Go check it out!  And big thanks to JL for starting the blog.  It's great to know that there are women out there who are ditching the societal ideal of ultra-thin and instead learning to love their bodies at healthy, natural weights!