What's better than ridiculously awesome skincare products?  Ridiculously awesome vegan skincare products!  I recently had the opportunity to try a couple of things from foreue, a vegan company that produces a variety of lotions, body cremes, personal care products, and natural handmade soaps–all of it 100% vegan and cruelty-free.
The idea for foreue (pronounced "for you") was inspired by an encounter with an artisan soap maker in Bermuda.  Fascinated by the process, the makers of foreue eventually launched their company with the goal of producing the best quality natural skin care products possible without the use of animal ingredients or preservatives.
First up for me was their Le Mudd Clay Masque.  I picked this one because I have, rather embarrassingly, fought an ongoing war with blackheads since high school.  I tried everything from those weird plastic nose strips to chemical clensers that left my skin tingling in odd ways.  Le Mudd seemed like a much gentler (and vegan!) option.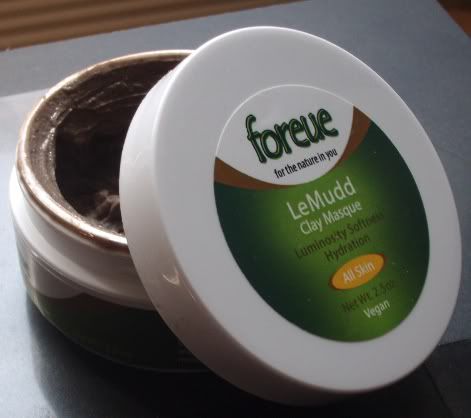 The first thing I noticed was how nice it smelled–just like the beach!  Though it also contains grapefruit seed extract and essential oils, the brown clay was definitely the predominant ingredient.  It's a bit hard to avoid making a mess when applying Le Mudd, but in my estimation it's worth it.
I let the masque dry for about 15 minutes before rinsing it off.  It dried nice and stiff and, although it didn't get all of them, it did manage to conquer some of my blackheads.  There was a definite difference in the smoothness of my skin after using Le Mudd.  I did need to apply a moisturizer afterwards as suggested on the container.
Which brings me to the shea butter body creme!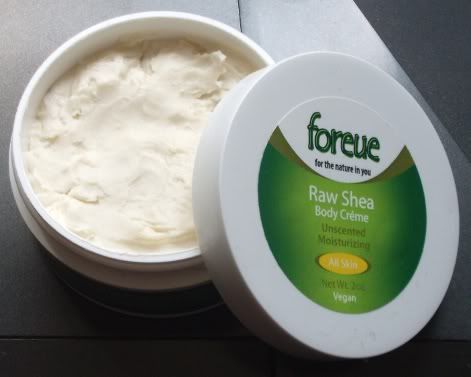 I am in love with shea butter, as I think I've mentioned.  Ever since I first tried out a tiny tub of the raw stuff put out by Vermont Soap, I've been hooked, and so was particularly excited to try foreue's take on it.
At first I was disappointed to find that it contains added coconut and avocado oils; I was expecting straight-up raw shea butter.  But after using it a few times, I can definitively say that I love it.  First, it smells like a cookie.  Seriously.  Second, it melts much more easily than other shea butter I've used.
Since I didn't have any face-specific moisturizer on hand, I used the shea butter after Le Mudd.  Wow!  I could pretty much feel it rehydrating my skin on contact.  I subsequently tried it overnight on my chronically dry hands and rough feet.  The result for all three was smoother, softer skin.  Though it doesn't "work in" the way commercial moisturizers do, it does sink in over time, which is why it's so great to use before bed.
I give foreue two thumbs up for producing great vegan products that 1) smell amazing, 2) feel amazing, and 3) do positive things for my skin, which can use all the help it can get between the freezing Northeast winters and humid summers.  Try them out!  You won't be disappointed.