This is something I just threw together last night to balance out dinner.  It's simple and pretty versatile; you can use whatever veggies you have on hand.  It would be an especially good way to use up a farmer's market haul or the last of a CSA box!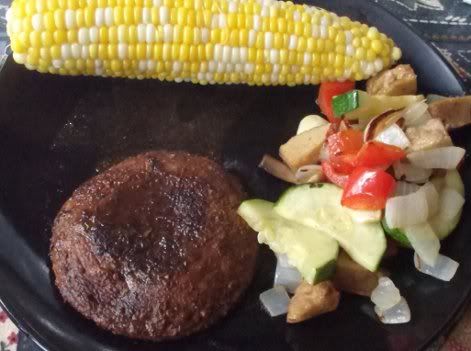 I served it along with jerk-spiced portabello caps and corn on the cob, but you could also serve it with seasoned rice, quinoa, or over a bed of greens.  Or dump it on top of your favorite pasta!  Get creative and enjoy.
Oven-Roasted Seitan & Vegetables
serves 2-4
Ingredients
1 1/2 tbsp. olive oil
6 ounces seitan, cut into cubes
1 cup onion, diced
1 cup red bell pepper, diced
2 cups zucchini, sliced into half moons
1 cup mushrooms, quartered
4-6 garlic cloves, halved
Directions
1) Preheat the oven to 425°F.
2) Place the seitan, vegetables, and garlic in a large glass baking dish.  Drizzle with the oil and mix until everything is well coated.
3) Roast for 20-25 minutes, stirring occasionally, until veggies are tender and seitan is browned.  Serve hot.