When I was grocery shopping this week, I bought a zucchini.  In my house, that usually means one of two things: roasted veggie pizza or zucchini quesadillas.  This time I wanted the latter, but the more I thought about it, the less substantial it seemed.
What to do?  Add beans, of course!  I pulled a can of canellini beans off the shelf and decided to make a base of refried-type beans before adding zucchini to the mix.  That definitely made the quesadillas more hearty, and I wound up with this recipe.
Spicy White Bean Zucchini Quesadillas
serves 4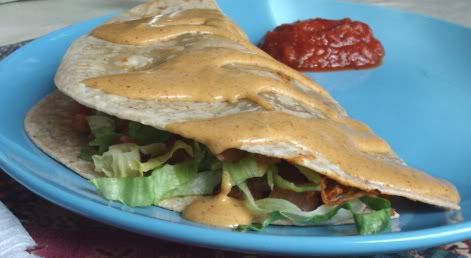 Ingredients:
1 cup onion, diced
1 cup red bell pepper, diced
1 1/2 cups cooked or 1 15-oz can canellini beans, drained & rinsed
2 cups zucchini, shredded
1/2 cup fresh or frozen corn kernels
2 tbsp. chili powder
2 tsp. cumin
1/2 tsp. oregano
salt & pepper
hot sauce (optional)
To assemble:
4 large oil-free tortillas
shredded lettuce
diced tomato
salsa
vegan cheese or cheese sauce (I used the nacho cheese sauce from The 30-Minute Vegan, but any meltable vegan cheddar or pepperjack would do, as would warm vegan queso!)
Directions
1) Preheat the oven to 350°F.
2) Place the onion and bell pepper in a medium skillet over medium heat.  Cover and cook until softened, stirring occasionally, about 5 minutes.  Add small splashes of water to the pan if necessary to keep things from sticking.
3) Add the beans and mash a bit with the back of a spoon or a potato masher, adding more water as needed to keep them from getting too sticky.
4) Stir in the zucchini and corn.  Add spices, hot sauce (if using), and salt and pepper to taste.  Mix well.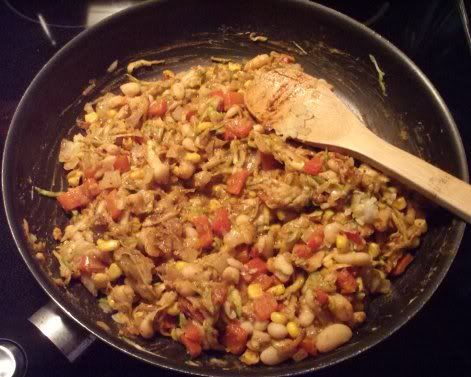 5) Continue to cook until the liquid from the zucchini has reduced, 3-5 minutes.  Taste and adjust seasonings if necessary, then remove from heat.
6) Place the tortillas on a baking sheet and divide the bean mixture evenly between them.  If you're using a meltable vegan cheese, sprinkle it on top.  Fold the tortillas over and bake for 10 minutes, turning once.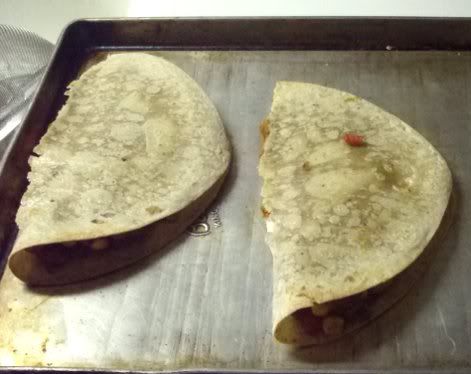 7) Remove from the oven and carefully open each quesadilla to add tomato, salsa, lettuce, or whatever other toppings you'd like.  If you're using vegan cheese sauce or queso, pour it on top of the finished quesadillas.
Enjoy!