I don't have much to say about this unique pizza from Vegan Planet except…YOU MUST MAKE IT.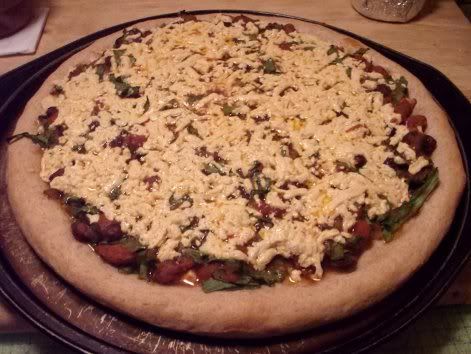 Seriously.  This is a pizza like no other.  The book bills it as a spicy black bean pizza, but guys…this is a burrito pizza.  Part of the topping is a soaked and pureed chipotle chili.  The rest of it, as the recipe goes, is salsa, black beans, and minced fresh cilantro.

I took a few liberties with the recipe to make the pizza more substantial.  First, I had spinach left over from making breakfast burritos, so I chopped some of that up and mixed it in with the other topping ingredients.  I love spinach in burritos so I figured it would make a good addition–and it did!  Second, I sprinkled a cup of pepperjack Daiya shreds on top for extra spice.  For the salsa, I used Salpica brand Texas Picante, but I'd love to try it with fresh, homemade stuff when tomatoes come in season.  I also used a mix of black and red beans since that's what I had on hand.

So, make this pizza the next time you want something a little different.  Since it's a nicely spicy pizza, I wouldn't recommend using a hot salsa on it.  Unless that's how you roll, of course.