A big part of the fun of holidays for me, now that I'm a responsible adult and all that jazz, is planning the menu!  I get a big kick out of paging through cookbooks, browsing websites and blogs, and letting Google guide me to just the right combination of recipes to make a holiday meal the best it can be.  So naturally, the 4th of July had me excited about more than just fireworks.
I knew before the 4th rolled around that I wanted to make veggie burgers of some kind.  There are so many recipes out there for burgers made with everything from TVP to beans to nuts and grains.  I've tried quite a few, but this time I wanted one I'd never made before.  Then I got to thinking about the lentil walnut burgers from Veggie Brothers and thought, "That's the type of burger I want!"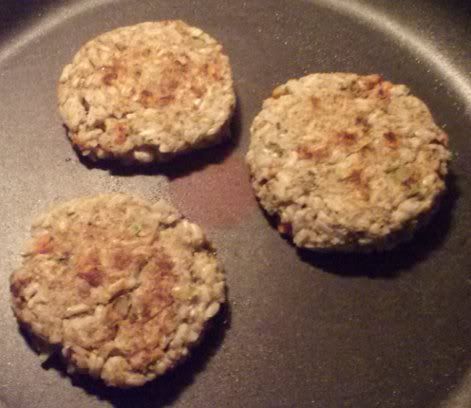 Thanks to a little Google action, I found this recipe from the Whole Foods website.  It was easy enough to veganize–I just used a flax "egg" instead of an actual one.  I also cut the recipe in half and made five patties since I didn't want a ton left over.  Pureeing the lentils and rice in the food processor with the "egg" was fun for my inner kitchen geek, and it was interesting to see the mixture come together and bind without vital wheat gluten or bread crumbs.
The only other change I made was to use olive oil cooking spray instead of actual tablespoons of oil when cooking the burgers.  I'll admit that I did so in order to reduce the calorie count a bit, but I think it turned out better overall.  The burgers finished crisp on the outside and soft, but not mushy, on the inside.  Had I used the amount of oil called for in the recipe, I think they might have been unpleasantly soft.  Texture-wise, these are hearty and filling; my omni brother commented on how truly burger-like they were.  Flavor-wise they're a bit bland, but I think that makes them a good palette for trying out your own blend of seasonings or a funky homemade condiment.  (I cheated and poured a good amount of organic bottled barbecue sauce on mine.)
Then there was this: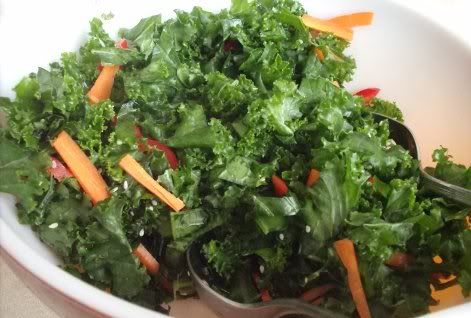 Yes, it's massaged kale salad!  I liked it so much the last time I made it that it became the green veggie du jour for 4th of July.  This particular bunch of kale came to me via a friend who works at a farm, and I'm incredibly thankful for the gift.  It tasted so much better than store-bought and reminded me all over again why I adore kale.  I went the super-simple route and massaged it with about a tablespoon of olive oil and a pinch of sea salt, then tossed on a few bits of red pepper, thinly-sliced carrot, and a dash of sesame seeds.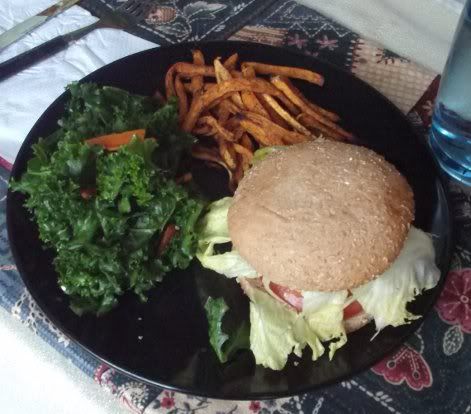 Last but not least, there were spiced sweet potato fries, because the empty space on a plate next to a good veggie burger always demands some kind of root vegetable.  (Or pasta salad, but hey.  4th of July, burgers and fries, right?)  I went with the recipe for spiced fries from the Happy Herbivore Cookbook, although I think I overdid the spices just a little.  I was using a lot of sweet potato, tried to up the quantities accordingly, and wound up with some pretty spicy fries.  Not that I'm complaining!  I did, however, fail in my attempts to get them to come out crispy.  Either I didn't cut the sweet potato thin enough, or the oven temperature needed to be higher.
Whatever the case, they were delicious despite being a tad soft.  I would definitely try the suggested variation and make an Indian-style fry at some point.  In fact, they would make a great vehicle for just about any personal preference as far as spices go.  Jerk spice would be pretty amazing, or something with a garlic theme…the possibilities go on and on.  And I like that cooking spray is used to keep the spices on.  It results in a much lighter end product than drizzling with oil would.  Don't get me wrong; oil has its place.  I'd just rather taste sweet potato than oil when I'm eating sweet potato fries!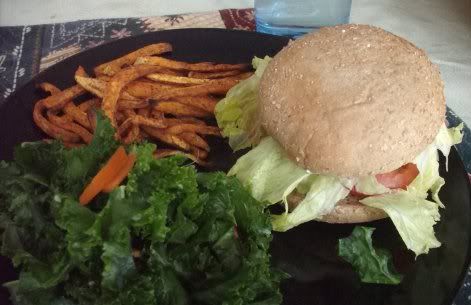 So that was my July 4th feast.  What great vegan dishes did you make?  I'd love to hear about them, and if you have any recipe links, please share!
Find more great recipes for the 4th in my roundup!