Being stuck on a dial-up connection most of the time, I don't get to see new blog posts as frequently as I would like.  But once a week or so, I take the time to load up Google Reader and see what everyone's been up to in the kitchen.
It's amazing what recipes people come up with!  I'm duly impressed by all of the breakfast bowls, sandwiches, smoothies, wraps, burgers, treats, and other fantastic vegan concoctions that are posted on a regular basis.  Many wind up in my bookmarks, and some, like these, jump out at me and demand to be cooked right now.
Last week, a recipe for Mushroom Barley Soup leaped off the Post Punk Kitchen blog and into my own kitchen.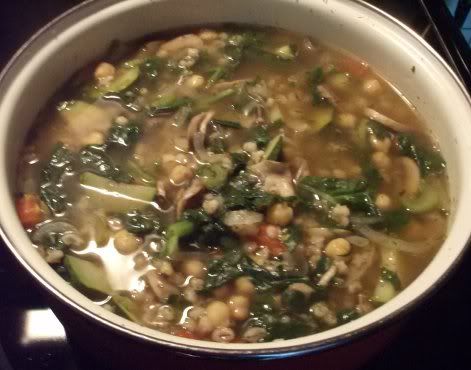 I'm a big fan of vegetable barley soup.  The Amy's brand can often be found lurking in the Quantum Vegan pantry after a particularly good co-op sale.  This was even better, and so simple to make that there seems no reason to keep buying the canned stuff.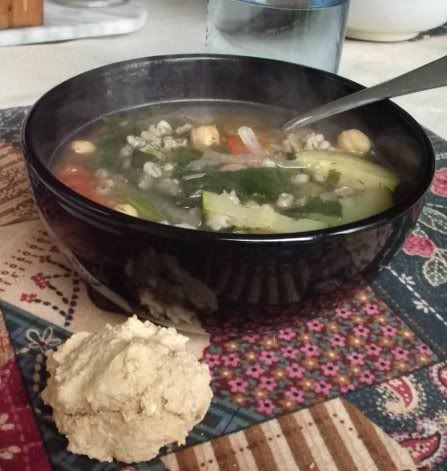 I only made a couple of changes to the recipe.  First, I didn't have any quick-cooking pearled barley, so I pre-cooked the regular kind for about half an hour around lunchtime so that the soup would still come together quickly at dinner.  Second, I added some chickpeas and shredded spinach to the existing mix of veggies.  I also had to use both dried and fresh herbs since, alas, I struck out on finding fresh dill at the store.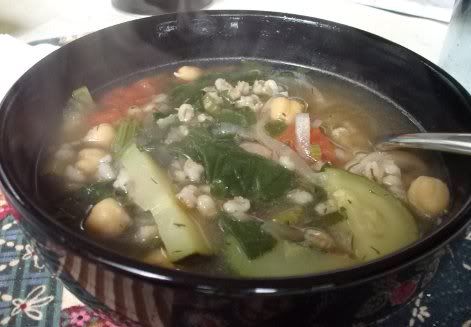 Paired up with some homemade drop biscuits, this made the perfect hearty meal, even at the end of a summer day.  Yep, soup in summer.  It's pretty amazing.
And speaking of amazing, who doesn't love breakfast food for dinner?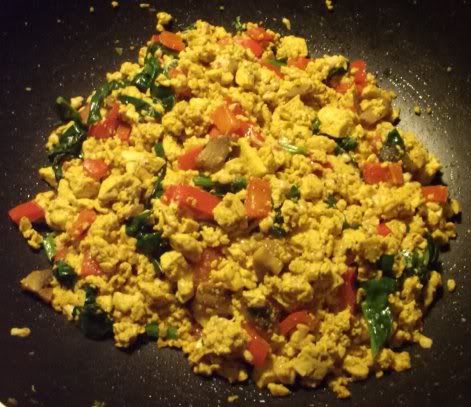 The local co-op just recently started stocking pepperjack Daiya shreds, so when I saw the Healthy Happy Life blogs' recipe for tofu scramble burritos with, you guessed it, pepperjack Daiya mixed right in, I knew they had to be made.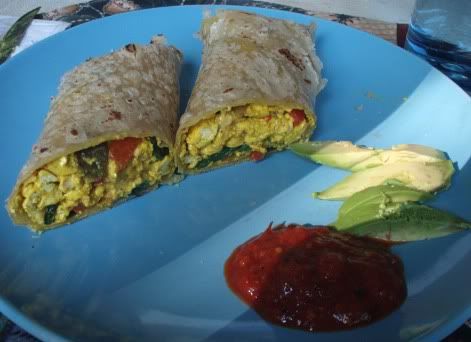 Sliced avocado and salsa paired up perfectly with these warm, melty, flavorful burritos.  I didn't mean to make any modifications but accidentally grabbed the wrong measuring spoon while I was putting the spices in and wound up with half a tablespoon of garlic powder instead of a teaspoon.  It was an error that did the scramble no ill.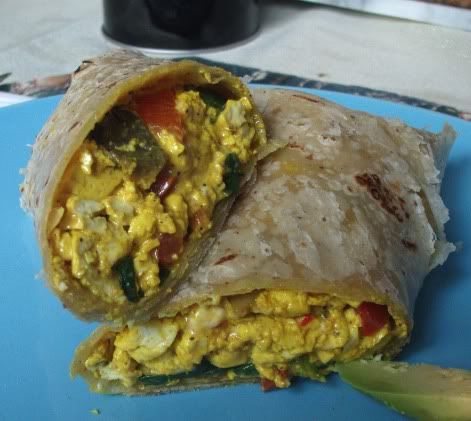 The wraps are Food For Life brown rice tortillas, which I love.  They're a bit more chewy than flour tortillas but have a nice flavor and tend to crisp up just a bit when warmed.  They were a great vehicle for this satisfying scramble.
Both recipes were a big hit with the rest of the family.  Of course, these are only a couple of the bazillion recipes out there that are worth trying!  There are so many fantastic vegan blogs to check out…what's yours? Let me know so I can follow you!