Sometimes when I crave lentils, I make lentil curry.  Sometimes it's veggie loaf.  But when it's crummy and rainy outside, I want something both filling and warming.  What fits the bill better than soup?

Hiding out in the soup section of 1,000 Vegan Recipes was this one for "lemony" lentil and rice soup.  Chock full of veggies, lentils, and brown rice in tomato broth with a touch of lemon juice, how could I resist?
The recipe called for a 14.5 ounce can of crushed tomatoes and 2 cups of tomato juice as part of the broth, neither of which I had, so I improvised by using half a 28-ounce can of tomatoes and diluting the remainder to a juice-like consistency.  It worked out just fine and saved me having to rush off and buy tomato juice!  (And, come to think of it, probably wound up  being a lot less salty than it might otherwise.)  The result was one heck of a hearty soup that satisfied my lentil craving while simultaneously combating the dreariness of the weather.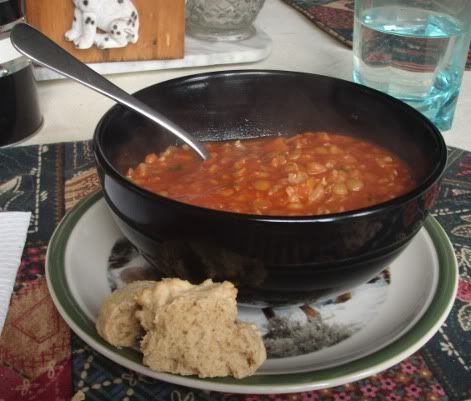 As an accompaniment, I made the ridiculously easy drop biscuits from The Joy of Vegan Baking.  It's a cookbook I keep forgetting I own and definitely need to use more often.  The biscuits literally come together in a few minutes and bake up soft on the inside with just a bit of crispness on top.  One of the variation suggestions is to use Earth Balance instead of oil for a buttery flavor…do it.  It smells amazing and tastes even better.  They're great biscuits to make when you have a pot of something long-simmering on the stove that needs bready accompaniment.
Question for the comments: Do you make soup in the summer?  Or do you prefer to leave heartier dishes for cooler months?