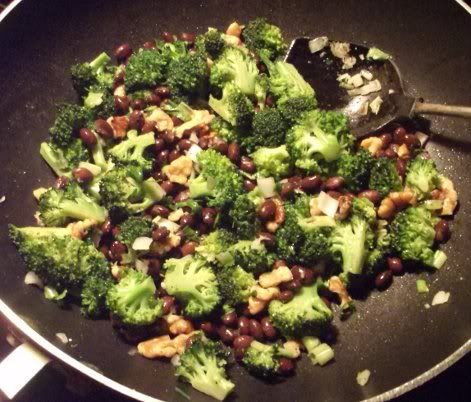 Being the big fan of one-pot meals that I am, the "side dish" sections of my cookbooks often get ignored.  But when I'm browsing indexes by ingredient, recipe titles rarely give a hint of whether they're a main dish, side dish, or something else.  Hence how I wound up looking at a black bean, broccoli, and walnut concoction in 1,000 Vegan Recipes and knowing I had to make it.
But what to make with it?  The suggestion for turning this side dish into a main one was to simply serve it over rice or quinoa–a nice idea, but not exactly what I was looking for.  I spent a good deal of time thinking, did I really want to just cook up a grain and call it a meal?  Finally, it hit me: wild rice blend!  But not just wild rice blend on its own; I wanted some good seasonings to make it especially flavorful.  And since I like dishes that cook rice and veggies in the same pot, I took that concept and came up with this recipe.
You can use whatever wild rice blend strikes your fancy.  It tends to be a bit cheaper than 100% wild rice and has a robust, nutty flavor that puts it a cut above other rice.  The shallots and garlic lend just the right amount of zip and the parsley gives it a splash of color.  This can also be served chilled as a side salad with a few chopped walnuts and dried cranberries thrown in!
Wild Rice Blend with Shallots & Parsley
serves 4
Ingredients
1 tbsp. olive oil
2 garlic cloves, pressed or minced
2 tbsp. minced shallots
1 cup wild rice blend
2 1/2 cups vegetable broth
2 tbsp. fresh parsley, minced
Directions
1) In a small saucepan, heat the oil over medium heat.  Add the garlic and shallots and satuee until softened, 3-5 minutes, being careful not to burn.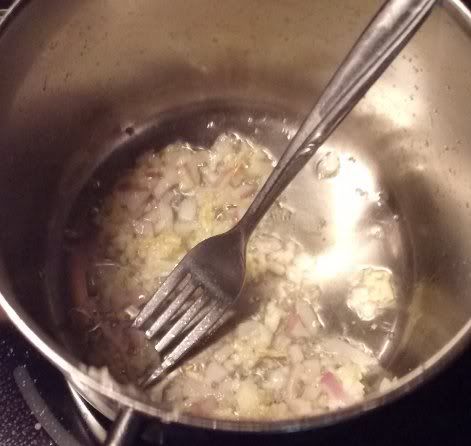 2) Add the rice and sautee for another minute, stirring to coat with the oil.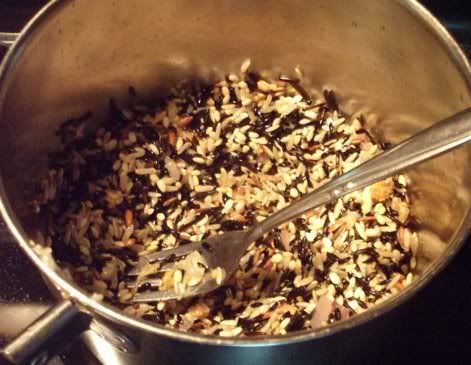 3) Add the broth, bring to a boil, then cover and simmer until the rice is tender and the liquid has been absorbed, 55-60 minutes.
4) Just before serving, stir in the parsley.  Serve hot.

It worked out perfectly as a side to the broccoli, beans, and walnuts.  I wound up  mixing the two together and eating it that way.  I'm a fan of rice and walnuts to begin with, so of course I enjoyed the combination!