Every year, the Bible study my mom and I attend goes on hiatus for the summer, but not before having a gathering to fellowship and, you guessed it, share food.  So what do vegans bring to a Bible study potluck?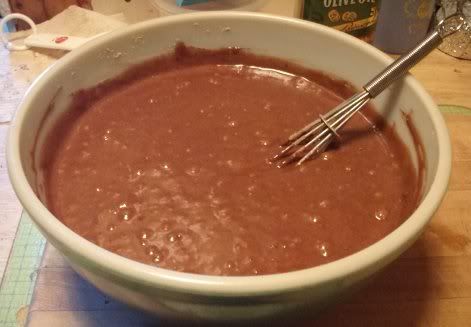 Dessert, of course!  More specifically, cake.  Even more specifically, this cake from the Post Punk Kitchen blog.  When contemplating what to bring, I knew I wanted to make a cake, and wouldn't you know it, this recipe popped up in my Google feed reader.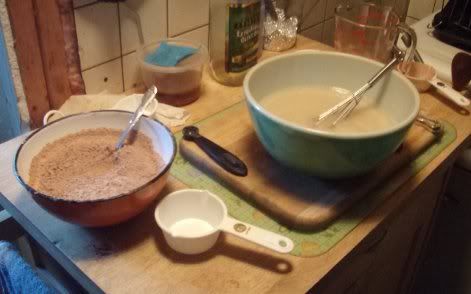 This is what my kitchen winds up looking like when I undertake any sort of food-related project.  In fact, this picture is a bit tame.  By the time I'm done making anything–cake, cookies, brownies, even hummus–my little kitchen island inevitably winds up covered in multiple ingredients and blotches of water from hurried attempts at cleaning between steps.  I hate a dirty kitchen so I always clean up afterwards, but ever since I was a kid making a mess has been part of the fun of baking and cooking.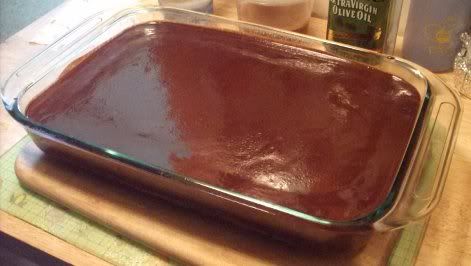 I was glad this cake uses ganache instead of frosting for a couple of reasons.  One, there isn't much confectioner's sugar in my cabinets right now.  Two, I'm not terribly keen on making frosting.  I'll eat vegan baked goods with frosting on them and read frosting recipes, but between latent fears from my eating disorder and memories of being ill from dairy-based frosting, it'll be a while before I can take pleasure in concocting my own again.
But really, with ganache this chocolatey, who needs frosting?  I substituted squares of semisweet chocolate for the chocolate chips–all eight ounces of them–and it turned out lovely.  Instead of hardening, it stiffened up just a bit to a consistency somewhere between traditional frosting and a candy coating, which was a perfect complement to the moistness of the cake.  This cake is definitely everything that chocolate cake should be.  And it has almond extract in addition to vanilla, which gives it just a hint of unique flavor.
Since I knew there wouldn't be much, if any, other vegan food at the potluck, I made some dinner as well.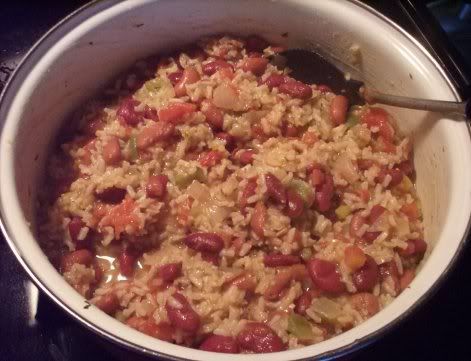 Yet another amazing bean and rice dish from the mind of Robin Robertson!  I could seriously eat beans and rice every day for weeks and not get sick of it.  There are so many combinations to try.  This one happened to be Creole-style, with cayenne and filé powder and all that sort of thing.  Like all beans and rice, it was both warming and filling.  I'm not sure what else to say about it that wouldn't amount to a bunch of babbling about how great I think beans and rice are together.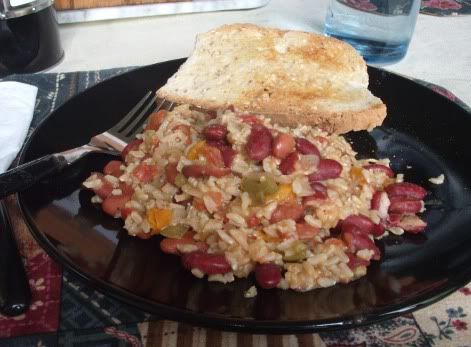 All in all, it was a rather amazing day, food-wise.  Everyone at the potluck liked the cake, and I had a good time just hanging out and relaxing.  I can't wait until our next church picnic so I can make some else fabulous and vegan to share!