You know how a lot of people say that cheese is the hardest thing for them to give up when going vegan?  Buffalo wings were a similar downfall for me when I was making the transition to vegetarianism.  (I may have mentioned this before.)  The trouble had less to do with the chicken than it did with the sauce.  Whether traditional spicy or spicy barbecue, I had a serious soft spot for those things.  Which is why when I discovered the recipe for buffalo tempeh in Appetite For Reduction, I knew I had to try it.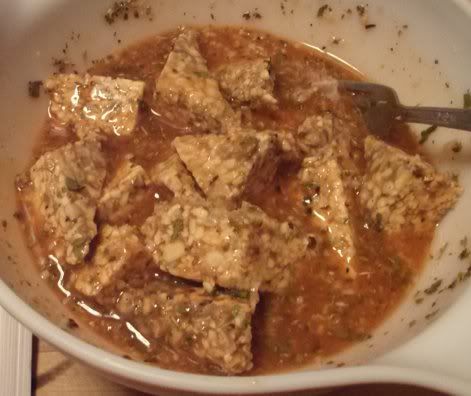 The marinade for this is easy but crazy amazing.  Vegetable broth, hot sauce, garlic, and thyme; that's it.  And since you can use whatever hot sauce you want, I went with my favorite: Red Devil.  My mom and I have been buying huge bottles of the stuff for as long as I can remember.  It's nicely hot with a little bit of a vinegary zing.  Along with the garlic, it filled the kitchen with an authentic buffalo wing smell that had me wanting to eat way before it was actually dinnertime.
While the tempeh was marinating, I took the cookbook's suggestion and made some "Cool Slaw" to go with it.  I always liked the accompaniment of bleu cheese or ranch dressing with hot wings, so having something to offset the hotness of the tempeh sounded good.  And boy did the dressing smell awesome!  The little bit of apple cider vinegar in it made the bits of the kitchen that didn't already smell like hot sauce smell tangy and delicious.  Unfortunately, the prepackaged cole slaw mix I bought didn't soak up the dressing the way I was expecting.  I think I was supposed to let it sit at room temperature before chilling it.
Smack in the middle of cooking the tempeh, a huge thunderstorm that was moving overhead knocked out our power.  My immediate (and rather undignified) reaction was to freak out about how I was going to finish dinner.  While my brother went to try and start the generator, I rushed off to light the wood stove, worrying the whole time about whether it would be hot enough to finish cooking the tempeh and get the marinade to glaze properly.  Long story short, it did, although the tempeh itself wasn't quite as browned as it was supposed to be.  That was no big deal, because the flavor was great, just as spicy and delicious as the smell of the marinade led me to expect.  It's not buffalo wings (thank goodness, eh?), but it's an awesome way to fulfill a craving for them.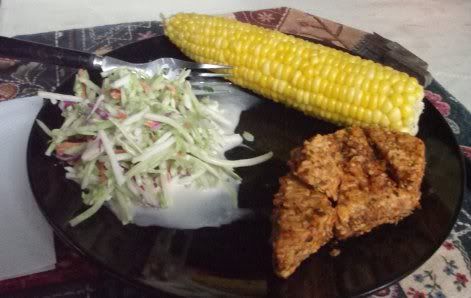 I'm just glad that I was able to finish cooking the corn while we still had power!