You know how I said that the next thing I want to try and get my dad to eat is cauliflower?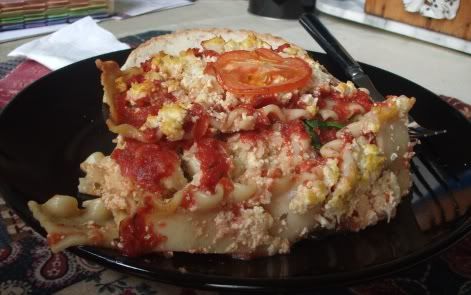 I think the Spinach Lasagna With Roasted Cauliflower Ricotta from Appetite For Reduction may do the trick.
I'm convinced that roasting anything makes it better.  You could probably roast an old (vegan) shoe and have it come out tasting amazing.  There's something about sticking things in a hot oven with a drizzle of olive oil that turns them from ordinary to magical.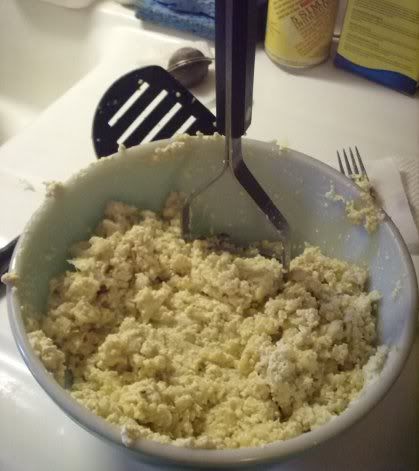 Hyperbole?  I think not.
Since making peace with it through the magic that is Indian food, I've come to really enjoy cauliflower.  So when I saw this recipe I thought, why not?  I already love lasagna.  Putting roasted veggies in it only makes it better.

The addition of the roasted cauliflower is the only real difference between this and a traditional vegan lasagna.  If you're the type who likes to have a bunch of gooey Daiya peeking out from between the layers of noodles, then you might be a bit disappointed.  Otherwise, wow.  Simple preparation, great blend of flavors, and if you squish it up really well nobody would ever know there was cauliflower hiding in the ricotta.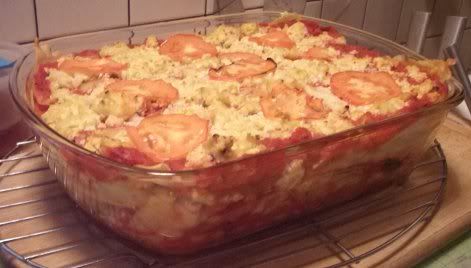 (I didn't squish it as much as I could have on account of being too lazy to break out the food processor.  It tasted great anyway.)  The ricotta was the most labor-intensive part of the process.  The rest was easy; all the sauce required was a bowl and a spoon to mix it up.  I didn't get a chance to share this batch with Dad, but that's okay because it's definitely what the Quantum Vegan household calls "a keeper."  It was a tad on the dry side, though so next time I make it I think I'll opt for a noodle or two less and a bit more sauce.  Did I mention there's fresh garlic squished into the sauce?  Because that was awesome.