"I.  Want.  Noodles."
That's how I felt when I woke up one day this past week.  I wanted noodles, darn it, and that's what I was going to have.  Not just any noodles, though; I wanted rice vermicelli.  A whole box of it had been hanging around in the cabinets for the better part of a month, but I hadn't yet found anything to do with it that sounded right.  But on Wednesday, I just had to have those noodles.
Thanks to Robin Robertson's Vegan Planet (and a last-minute trip to the grocery store), I found the recipe I needed to fulfill my craving.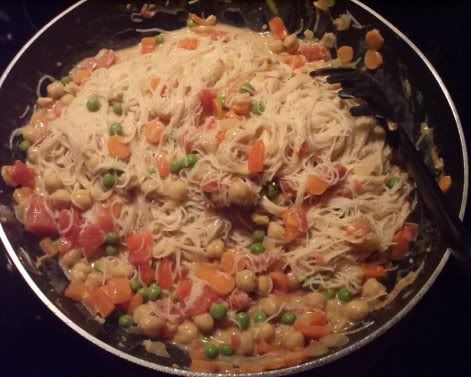 Looks awesome, no?  It's a Vietnamese-inspired concoction with veggies, chickpeas, and a silken-tofu-coconut-milk sauce.  The majority of the flavor comes from curry powder which, unfortunately, I haven't yet found a nicely hot variety of.  At some point I'm going to have to make a special trip to the Indian store near the mall for authentic spices!

I love the color that curry powder imparts to things, though.  The sauce was milky white when it was in the blender, but once it hit the pan it developed a yellowish color I've come to associate with Indian food.  That made it easy to see when all of the noodles had been properly coated later on.  According to the recipe, you're supposed to put them in a serving bowl and dump the sauce and veggies on top, but I figure, why dirty up another dish?  Especially since I'm the dishwasher in the Quantum Vegan household…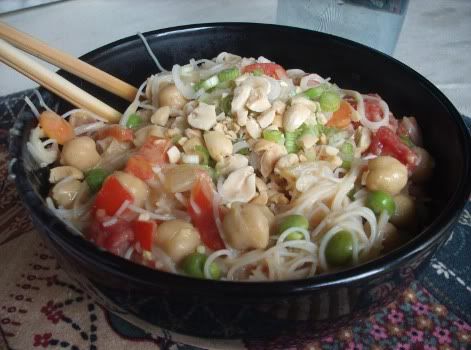 A sprinkling of sliced scallions and crushed peanuts made a nice final touch for the meal.  Personally I think a few sprigs of fresh cilantro wouldn't have gone amiss, either.  All in all, I got to have my rice noodles and eat them, too.  One thing I like about rice vermicelli is that you can eat a huge bowl of it and not feel like you've swallowed a bowling ball.  It's very light and takes well to so many flavors.  Plus my family also loves noodles, so there are no complaints when I decide on a recipe like this for dinner!
Question for the comments: What do you do when you have a craving that needs fulfilling?  Do you give in and satisfy it or look for another way to deal?