There are picky eaters in every family.  I've never considered myself to be one of them; in fact, I like to think I've become less so since going vegan.  But my dad?  Definitely has his preferences when it comes to food, and can be pretty staunch about deviating.  But what I've found kind of funny through my various attempts to get him to eat more vegan things is that, secretly or not-so-secretly, he just plain likes to be fed good food.
For example, he likes chili.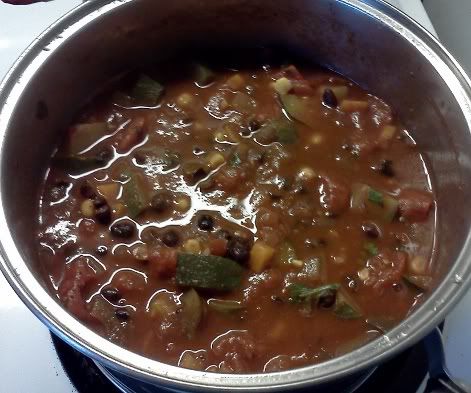 Let me backtrack for a moment before babbling about what's in the picture.  When I say my dad likes chili, what I'm referring to is the chili my mom made when I was growing up.  It had red beans and a lot of good spices, but the basis for it was always ground beef; decidedly not veg-friendly.  Dad also maintains that he hates black beans, and has never really liked carrots.  While I can't begrudge people their dislikes–I have yet to make peace with certain foods myself–I also know that sometimes dislike of a food is due to a bad experience with a poorly-prepared dish in the past or plain old ignorance of how to prepare said food.
I point this out because this chili, straight out of (yet again) Appetite For Reduction, contains both black beans and carrots, as well as onions, zucchini, corn, and a whole bunch of tasty seasonings, including lime juice and fresh cilantro.  I picked it to try because it reminded me of a fully-loaded veggie chili I used to make when I first started leaning towards vegetarianism.  It was called Veggie Packed Chili or something of that nature, and I still pick up The Clueless Vegetarian and eye the recipe from time to time.  Zucchini, beans and corn make an appearance in that recipe; in fact, the biggest differences between it and the Appetite For Reduction recipe are the thickness of the sauce and the balance of seasonings.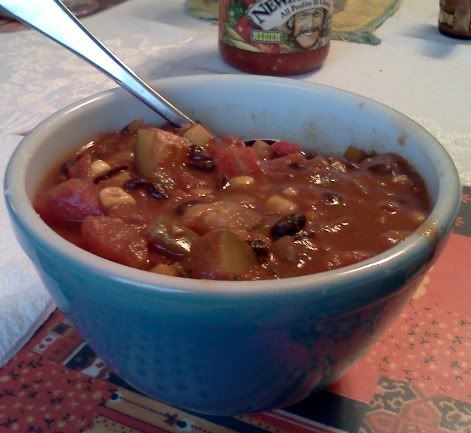 Long story short, my dad loved it, as did my mom and brother.  It's been a while since I've cooked for all four of them on a regular basis, and I always feel especially happy when everyone enjoys a dinner I put on the table.  I'm even happier when my dad sits down to a vegan meal and likes it enough to finish everything on his plate (or, in this case, in his bowl).  It would seem that the trick to getting Dad to eat his veggies and beans is to make sure that they're gathered together with good seasonings that lend an enjoyable flavor to the whole dish.
Next on my list to get him to eat?  Cauliflower.  Wish me luck!