What's not to love about pot pie?  Right, absolutely nothing.  As long as it's vegan pot pie, of course!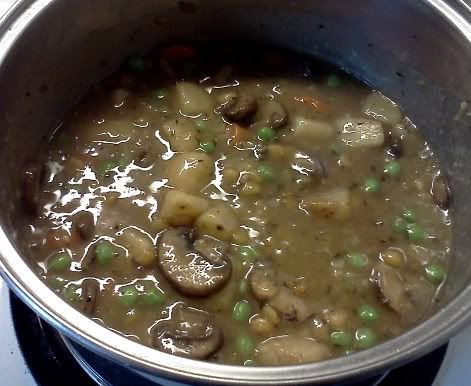 But what's this, you ask?  A pot, but not a pot pie.  It is, in fact, Veggie Pot Pie Stew from Appetite For Reduction.  I guess I must be in love with this book, because every time I flip through it I find another recipe to try!  I don't remember eating pot pie when I was growing up, but since going vegan I've tried the dairy-free kind from Amy's kitchen and liked it a lot.  I haven't yet embarked on making my own, crust and all, but now that I've had this pot pie stew I think I'm going to have to.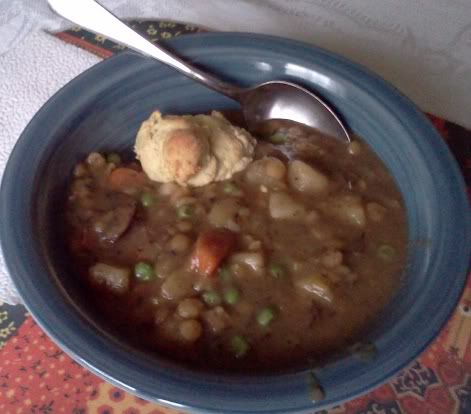 It has everything that's great about pot pie: thick broth, savory veggies, and a lingering warmth characteristic of good old-fashioned stews.  I made these biscuits from VegWeb to go with it, substituting olive oil for the nondairy butter because I completely forgot I was going to need it and left my tub of Earth Balance at home. (Have I mentioned how hard it is to lug everything from a vegan kitchen to a non-vegan one to make it workable?)  They came out all right, but the batter reminded me more of dumplings than biscuits.  I'm betting they would taste great as dumplings, in fact, whether in this stew or in something else.

My dad ate this up no problem, even though it has carrots in it and he maintains that he hates carrots.  Then again, I got him to eat black beans in a bean and rice dish earlier in the week, so it seems that it's all in the seasoning.  Pot pie stew is definitely a good recipe to feed a mixed crowd.  It's so hearty and satisfying that nobody will "miss" the meat.  And it's delicious enough that you don't have to wait for stew weather.  I made this on one of the warmer days we've had recently, and there were no objections!