I've heard a lot of buzz lately about Isa Chandra Moskowitz's Appetite For Reduction, and I have to admit that I didn't pay much attention to it at first.  Being 10lbs. underweight, I tend to hesitate at the idea of "diet-themed" cookbooks.  Of course, since it is Isa Chandra's and I am a complete and total sucker for any and all things vegan in the cookbook section of the local bookstore, it was necessary to take a peek at it during a recent trip to Barnes & Noble.
A couple days later, I ordered it online.  The day after it arrived, I was already whipping up a recipe: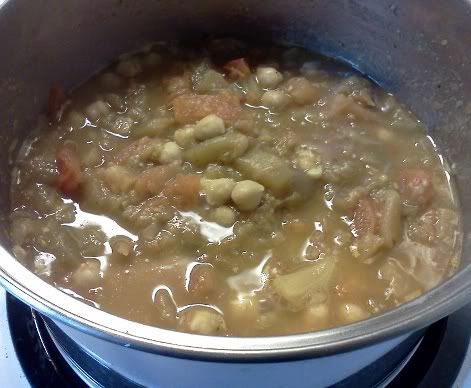 Eggplant chickpea curry!  A great way to use leftover chickpeas.  Or, you know, any chickpeas.  What lover of curry can argue with a recipe that uses both curry powder and garam masala?  Certainly not me.  And I've never cooked something in which eggplant is meant to reduce during cooking time.  Turns out it's a pretty neat process.  The entire pot was full to the top with eggplant pieces and I was wondering how I was going to fit anything else in.  Lo and behold, it cooked down like crazy over the course of the 40-minute simmering time and created quite the sauce.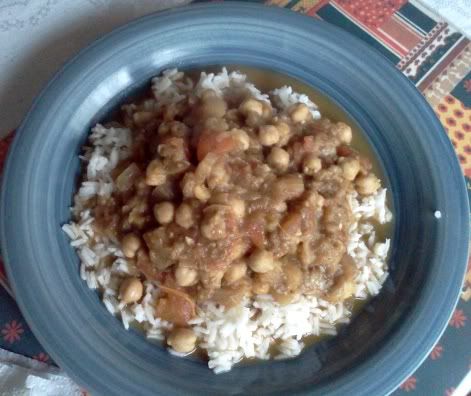 Still, the sauce was a bit more watery than I was expecting.  That may have been my fault; I'm unused to my grandmother's stove and don't think I had the heat up high enough during the first part of the cooking time.  It didn't affect the flavor at all.  The long period it spent simmering with the spices made it very tasty.  The only thing I would add is a pinch of cayenne, because I like curry hot.
The especially great thing about this is that my dad, who has been staunchly "meat & potatoes" for as long as I can remember, enjoyed the heck out of it and cleaned his plate.  When it comes to my dad and vegan food, that's saying something!  It made me happy to see him eating something with chickpeas.
Question for the comments: Who's the toughest non-vegan in your family to feed?  What dish(es) do you make to wow them with vegan food?