I don't know about you, but in my perusal of cookbooks I sometimes find multiple recipes that I'm only one ingredient away from being able to make.  And, for whatever reason, I never seem to get around to buying that one ingredient.  In this case, I'm talking about yellow split peas.  They seem to pop up most often in recipes for Indian food, and despite my love of all things Indian-spiced, I'd never tried them.
That is, not until I went back to Shalimar recently for dinner with my parents.  Right on the menu was Chana Dal, a dish made with, you guessed it, yellow split peas!  I wound up ordering it along with some roti and mango chutney, and boy was it good.
So good, in fact, that I had to make some dhal of my own later in the week.  I remembered seeing a recipe for three-bean dhal somewhere and wound up locating it in Vegan Planet.  It's made up of black beans, dark red kidney beans, and yellow split peas along with traditional Indian spices.  Small world, yellow split peas happened to be on sale a few weeks back.  Of course I had to pick up a bag.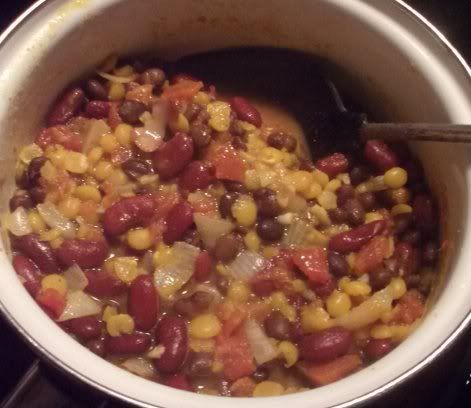 One of the things that I love about making Indian food–or any heavily-spiced ethnic food–is how the entire house begins to smell of the spice mixture long before the food is done cooking.  There's nothing better than the aroma of a good, hearty meal (or tasty baked good) permeating every room.

It tasted as good as it smelled, if not better.  Mom and I enjoyed it over basmati rice, garnished with a little cilantro.  Some spinach added near the end of cooking time wouldn't have gone amiss, either.  Since I love curried spinach, I would try that the next time I make this.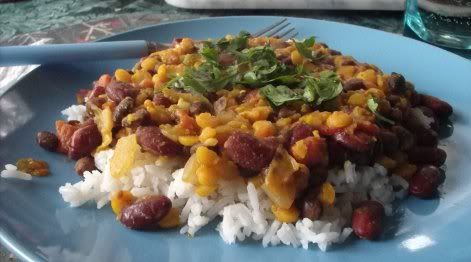 Question for the comments: What restaurant dish(es) have you loved enough to make at home?