I've always loved nuts.  My dad ate huge quantities of peanuts when I was growing up, so we always had either those or some kind of mixed nuts in the house.  The aroma of nuts being consumed after dinner is a consistent childhood memory of mine.
Then my brother got into raw nuts and began buying them in bulk.  Thanks to this, I wound up falling in love with both raw almonds and raw cashews to the point where I rarely buy cooked nuts any more.  This doesn't usually matter since I prefer raw nuts for snacking, but every once and a while I'll come across a recipe that calls for roasted peanuts and, inevitably, there aren't any around.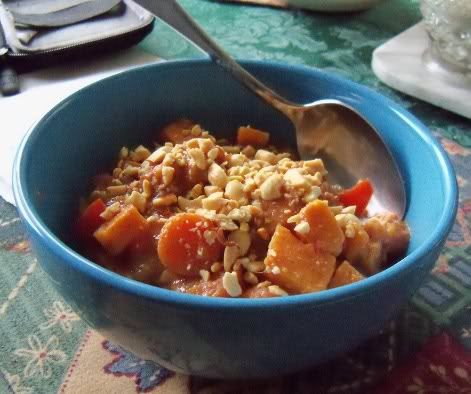 Such was the case with the West African Yam and Groundnut Stew (also known as "OH MY GOSH SWEET POTATOES WITH PEANUT BUTTER!") from Vegan Fire & Spice.  There are some recipes where you can skip the garnish without much of a problem if you don't happen to have it, but the final addition of crushed roasted peanuts in this recipe is pretty much essential.
The persistant problem with buying roasted peanuts was that all I could ever find were the Planter's dry-roasted variety with a bunch of gross extra ingredients. Seriously, who puts gelatin on a dry roasted nut?  But on a whim, I decided to look anyway when shopping for the Thai-Phoon stir fry.  Lo and behold, wasn't there a variety of Planters dry roasted with one ingredient: peanuts!  They were on sale, too, which made it that much better.  I don't know if they've always been there and I just never noticed or if it's a new thing, but I was ridiculously excited by my find.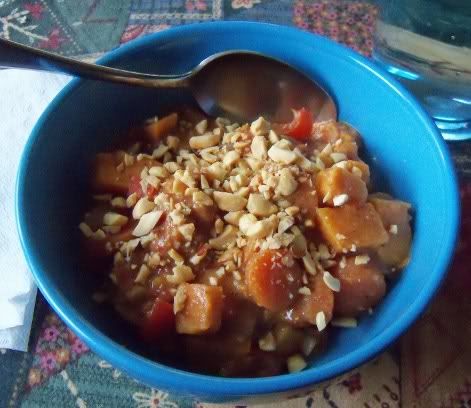 Turns out I had every right to be.  The peanuts really made this recipe.  They added just the right amount of crunch to a dish largely made up of soft and tender things: sweet potatoes, carrots, bell peppers, and onions all cooked in a spicy peanut butter sauce and served over couscous.  I think I've gone on enough about how much I adore anything with sweet potatoes and peanut butter, so all I'll say to finish up is…WOW.
Seriously, if you've never cooked anything from this book, you are missing out.