I think most people have fond food memories from different seasons.  Winter chill brings on the thought of hearty dinners and thick, warming soups; while summer conjures memories of racing to finish gigantic soft-serve ice cream cones before they melted into sticky puddles.  For me, summer also brings to mind classic barbecue food: hot dogs with mustard, marinated chicken legs and, of course, cold salads slathered in mayonnaise.
Looking back, I realize just how nasty all of that was for my body.  But that doesn't dampen the fondness of the memories or keep me from occasionally craving those foods, albeit updated vegan versions.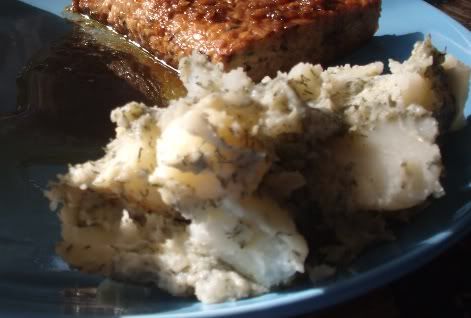 Behold the first potato salad of the season!  I sucked down my fair share of macaroni salad as a kid, but always opted out when my parents decided they wanted potato salad instead.  Beats me as to why I suddenly started liking it after going vegan.  I suspect it had something to do with discovering fat free Nasoya "mayo" and the fact that a lot of vegan potato salad seems to have Dijon mustard in it.  (Is anyone else obsessed with mustard?  Because I'm still obsessed with mustard.)
Whatever the reason, I found myself craving potato salad on a particularly warm day this past week.  I thought I had seen a recipe in the Happy Herbivore Cookbook, so I pulled the book out a lo and behold, there it was!  Not only was it a vegan potato salad recipe, it had dill.  And lemon!  I didn't have any fresh dill (more's the pity), but I did have a lemon that I was able to grab a bit of zest from.  Even with dried dill, it was an amazing addition to the basic mayo-and-mustard combination.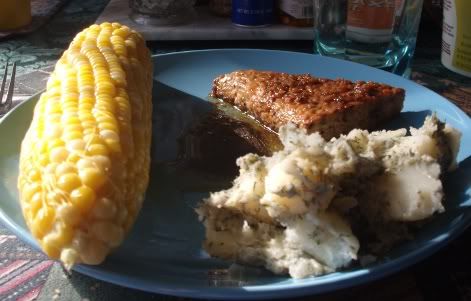 I served it up with the marinated smokey tempeh from Veganomicon and some more of the amazing corn that has begun popping up at the grocery store.  The zing of the lemon and dill went really well with the smoked flavor of the tempeh, so all in all it was a great warm-weather meal.  It would also be a great side dish to take to a potluck!