When my mom said she wanted "something with peanut sauce" for dinner on Mother's Day, our shared favorite of peanut soba noodles with veggies immediately came to mind.  But the more I thought about it, the less right it sounded.  Plus, I was having a craving of my own: coconut milk!  Once again, it was Robin Robertson to the rescue with a recipe that included both.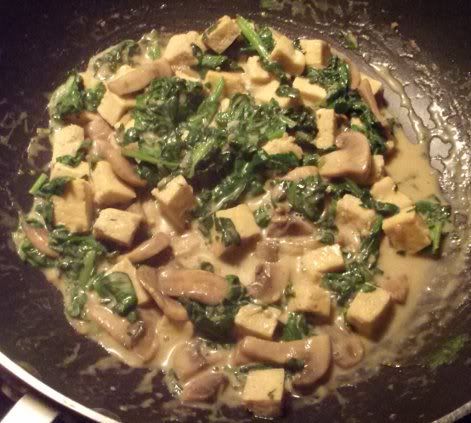 Let me tell you, though, I had a heck of a time finding coconut milk recipes via the indexes of my cookbooks.  Either only a handful of the recipes actually calling for it were listed, or the index only had "coconut" and not "coconut milk."  I ran across this one entirely by chance while looking for something else.

It's called "Thai-Phoon" Stir Fry, named for the three (yes, three) different garnishes scattered on top: shredded coconut, crushed peanuts, and cilantro!  This unique little gem is hiding amid other tofu dishes in 1,000 Vegan Recipes and is more than worthy of a second look.  The main part of the stir fry is made up of browned tofu cubes, mushrooms, and spinach; garlic, shallots, and ginger add flavor.  The sauce sports a tasty combo of coconut milk, peanut butter, chili paste, and a few other seasonings, plus a drizzle of sesame oil to finish the whole thing off.
Sound complicated?  Not really.  Tasty?  Oh heck yes!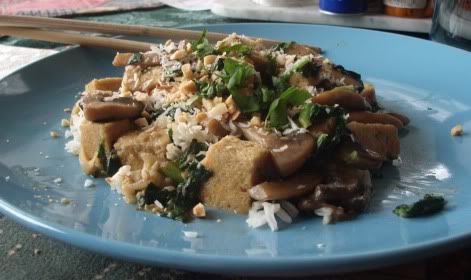 And what's Mother's Day without an equally tasty dessert?
I actually made these on Saturday, but of course they were just as fresh and tasty on Sunday.  And they're still fresh and tasty now, which is good, seeing as even a half a batch makes 18 cookies.  Not that I'm complaining.  I am nothing if not a vegan cookie monster.
Question for the comments: What did you all do for your mom this Mother's Day?  Moms, what did your family do for you to make the day special?