I've noticed when you buy a bunch of collards, you get a bunch of collards.  As in, the smallest bunch in the store weighs a good pound and a half.  Not that I'm complaining; it just means more than one tasty collard dish per bunch!
When I want something a little different, I usually go to Veganomicon.  Out of all the cookbooks I own, it's the most "fancy" when it comes to dinner recipes, so I figured it would have something awesome to do with collards.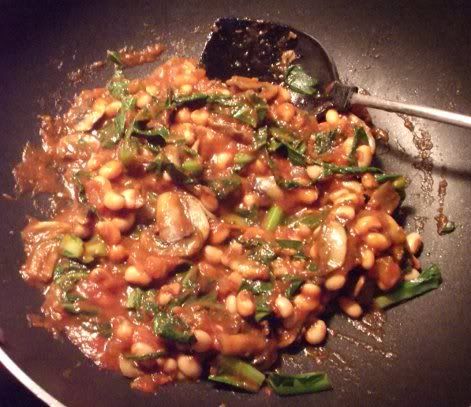 I was right!  The recipe for BBQ collard rolls begged to be made.  I've used the "Backyard BBQ Sauce" before as a coating for baked tofu, and it's pretty darn amazing.  I like dinner components that can be made in advance to help avoid cooking everything in a rush around mealtime.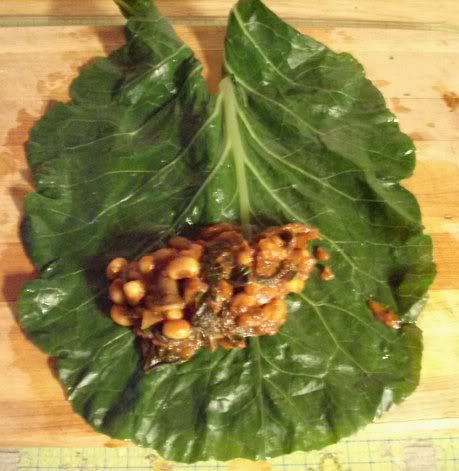 Despite requiring several pans in which to cook BBQ sauce, collard leaves, and collard roll filling, this recipe turned out be pretty easy.  The idea was to take large collard leaves and fill them with a mixture of sauteed mushrooms, black-eyed peas, chopped collards, and BBQ sauce, then pour more sauce over the top.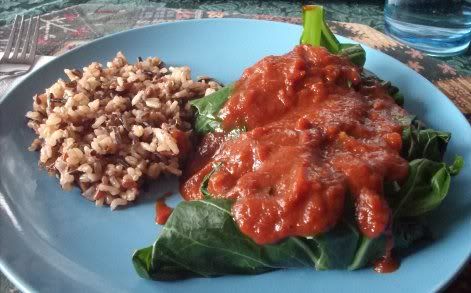 They were incredibly fun to make!  The collard leaves were easy to roll and wound up looking like something straight off a restaurant menu.  Though the book suggested mashed potatoes as a side, both my mom and I decided that we wanted some wild rice blend instead.  That worked out well; the nutty flavor complemented the collard rolls and we both thoroughly enjoyed everything.
By the way, if you've never made your own BBQ sauce…do it.  Preferably the Veganomicon recipe.  So worth the time!