So.  I know this is super-late for an Easter post, but I couldn't not say something about the amazing dinner we had here in the Quantum Vegan household.
Our Easter tradition when I was growing up was pretty standard: we always had ham.  We rarely ate ham the rest of the year, but on Easter it was the thing.  My mom usually cooked up some very tasty garlic potato slices (which I should dig up the recipe for someday, because they're "accidentally vegan") and a vegetable of some kind to go with it, and there was always applesauce.  And sometimes cinnamon rolls or biscuits.  In fact, it's a meal I wouldn't mind eating again if I could find something to replace the ham.
This year, though, the idea of a meatlike centerpiece was abandoned in favor of–wait for it–pasta!  If you've read some of my other holiday posts, you're probably sensing a theme here.  My mom loves pasta, I love pasta, and my meat-and-potatoes Dad will eat just about anything pasta-y, so it's the logical choice for a holiday dinner that the entire family will enjoy.  Plus, dude.  Italian genes.  Pasta love is practically hereditary.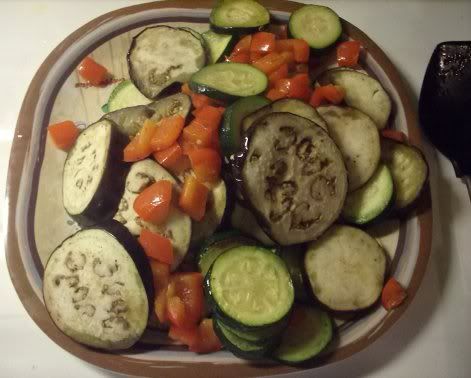 I decided on the Roasted Veggie Lasagna out of 1,000 Vegan Recipes.  That book has a neat little subsection called "Lasagna Eight Ways," and since I have a personal affection for roasted veggies, I chose that out of the eight.  It's a bit labor-intensive since you have to chop up red pepper, zucchini, and eggplant and then roast them while you cook the lasagna noodles, but let me tell you…so worth it.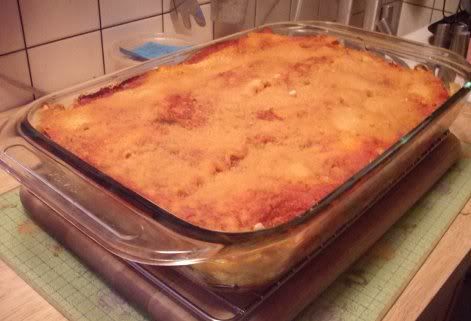 There are a lot of tasty layers to this lasagna!  Two packages of tofu–one firm and one soft–get mixed with nutritional yeast and spices to make a ricotta substitute.  The roasted veggies make another layer, while sauce makes the third.  (I used Newman's Own "Sockarooni.")  Alternate the layers, top it with vegan parm, bake it, and ta-da!  You get one beautiful Easter dinner.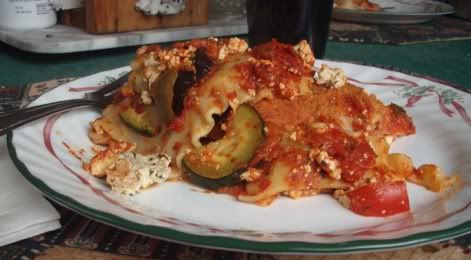 With leftovers.  I don't think I need to tell you how amazing a chunk of this tastes alongside a big green salad for lunch.  I can has more please?