Have you ever cooked something, plated it, and decided it looked downright sexy?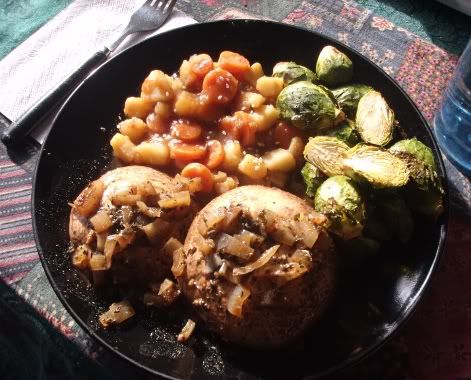 Call me crazy, but I think the portabella steaks from the Happy Herbivore Cookbook are one of those things.  Tasty, tender mushrooms covered in a balsamic faux-beef broth with onions and spices?  Yes please.  It's little wonder this recipe got my vote for what to do with this season's first package of portabella caps.
These spiffy-looking mushrooms needed equally spiffy accompaniment, so I flipped around the cookbook a bit more before hitting on the maple-glazed vegetables.  What a super-simple side dish!  However, I made the mistake of trying to steam potatoes in too little vegetable broth and wound up adding too much extra liquid to compensate.  The result was still deliciously maple-y, but more of a sauce than a glaze.  And of course, how can you go wrong with roasted Brussels sprouts as a green veggie to round it all out?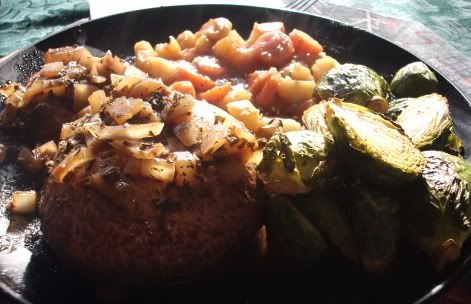 I love, love, loved this whole meal.  The flavor of the portabellas was amazing, the veggies were tender and sweet, and the Brussels sprouts tasted equally good dipped in either sauce.  I have no doubt that I'll be making portabella steaks again many times in the coming months.  They would also be awesome marinated in the broth and grilled.  Mmm, grilled mushrooms…