This one falls into the "I wish I'd thought of this" myself category, right after the "I really want Chinese takeout but hate MSG" category.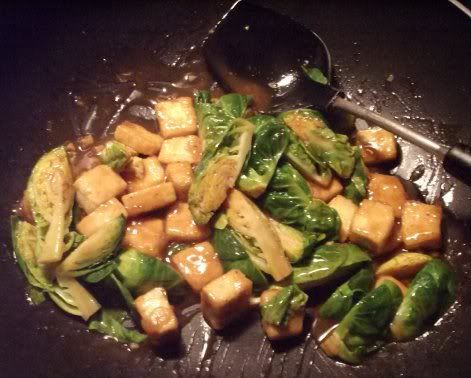 Ginger-hoisin tofu!  This little beauty was hiding in 1,000 Vegan Recipes, but I somehow missed it until last week.  I've always been fond of Chinese dishes that include crispy tofu–the local takeout place does a mean General Tso's–and tend to pounce on any recipes that let me make it at home.  Add to that the fact that this recipe also includes hoisin sauce. and I was sold.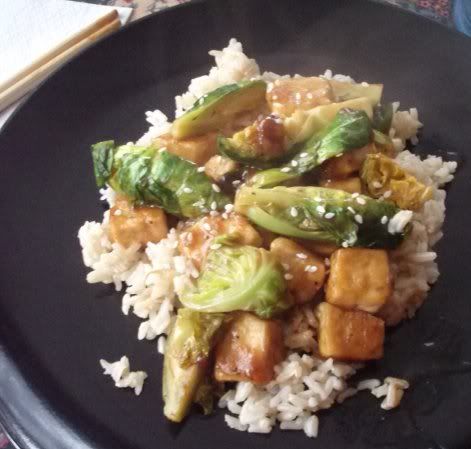 This is pretty standard "crispy tofu" fare; that is, the tofu gets coated with cornstarch and cooked before everything else.  It didn't get quite as crispy as I wanted, but I think that was my own fault for not making the oil hot enough.  Other than that, this recipe was awesome.  The sauce was full of sweet gingery goodness with a hint of citrus from not one, but three fruit juices.  Orange, lemon, and lime juice gave it a nice little kick.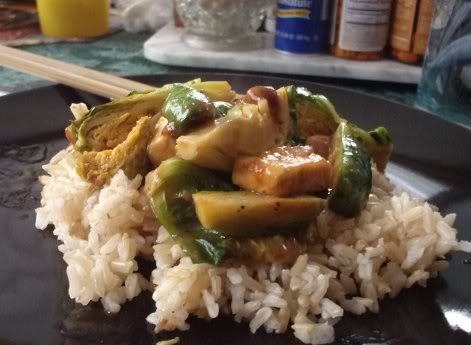 I didn't have any broccoli to steam and add in as the recipe suggested, so I quartered and steamed Brussels sprouts instead.  Talk about delicious!  It was so go that I'd like to try substituting Brussels sprouts in other recipes that call for broccoli.  I think it would be an interesting–and tasty!–experiment.
Despite the not-quite-crispy tofu, this did taste remarkably like takeout.  It wasn't difficult to make and is a good go-to recipe for when you're craving Chinese but don't want to order in.  And you could use pretty much any veggie in place of the Brussels sprouts, even frozen mixed veggies if you're in a hurry!
Question for the comments: What's your favorite "takeout" dish to make at home?