Though my new favorite way to eat asparagus is undoubtedly roasted and drizzled in balsamic vinegar a la Happy Herbivore, I also enjoy it as the feature in a main course.  And since my mom often requests a pasta dish of some kind, it only seemed logical to try the rather unique-sounding recipe for Penne with Creamy Asparagus Sauce out of 1,000 Vegan Recipes.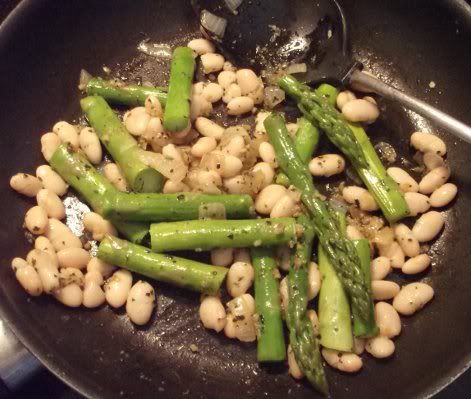 I like creamy sauces that are made with beans for a couple of reasons.  One, I very rarely have enough raw cashews on hand for cashew-based sauces, and two…I have to admit that nuts as a sauce base still sort of scare me.  As a snack, I love that nuts are calorie-dense and full of good fats, but I can't quite bring myself to incorporate them as a large part of dinner yet.  I'm working on it, but I have a feeling it will be slow going.
Beans, now, those are pretty magical.  They've been a staple of my diet since I first started exploring vegetarianism back in high school, and I've loved bean-centric recipes ever since.  White beans make a lovely light, creamy sauce without the things that scare me about nuts, and are also good for people who want a good vegan cream sauce but can't eat nuts.  Robin Robertson takes full advantage of beans in the recipe, pairing them with onions, Italian herbs, and steamed asparagus to create a tasty light green sauce.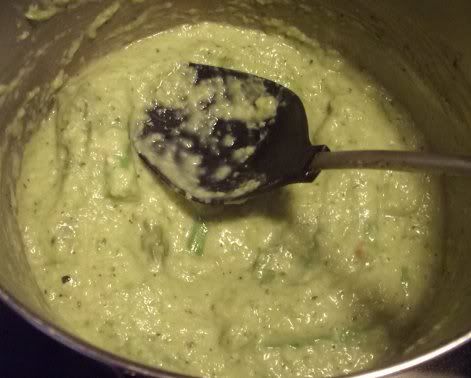 The preparation required several pans and the food processor.  One pan to steam the asparagus, another to sautee the sauce ingredients before pureeing, and yet another to cook the sauce after pureeing.  All of this made my tiny kitchen rather crowded, but it all worked out in the end.  The green tint in the sauce comes from putting half the steamed asparagus into the food processor with the beans and the onions.  The other half gets added during cooking, so there are chunks of asparagus as well as an asparagus flavor to the cream sauce itself.
Another food I positively adore is tri-color pasta.  It doesn't matter what shape; there's just something about it that makes me feel better about eating a big plate of bready things.  It looks pretty, too, which of course I love.  Fortunately for pasta geeks like me, the Ronzoni brand has started making a line of pasta called Garden Delight.  So far I've seen tri-color rotini, which is pretty standard fare; and tri-color penne, which isn't.  Since penne is one of my favorite pasta shapes, I was rather excited when the tri-color variety appeared at the supermarket and immediately had to have some. (They tout is as having "a full serving of veggies in every bowl," but I just like the way it looks.  And tastes.)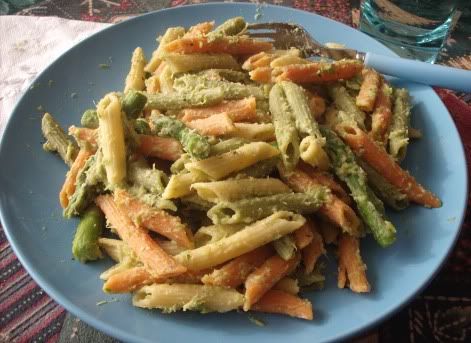 This dish has it all: protein, carbs, a green veggie, and a whole lot of flavor!  Plus it's a big honkin' plate of pasta.  A really big plate of pasta.  I've noticed that Robin Robertson's recipes tend to call for almost twice the amount of noodles or pasta shapes that I'm used to eating.  I usually cut the amount down a bit, but this time I made it all since the sauce was so light.  It was a lot of food…but it was a lot of good food.  No doubt I'll make this again the next time asparagus is on sale!