Have you ever used only part of a box of silken tofu in a recipe and then wondered what the heck to do with the rest?  Whenever I found myself with extra silken tofu in the past, I usually wound up making it into sour cream, cream cheese, or something of that ilk.  In my mind, silken tofu always winds up as a sauce or condiment.
It never occurred to me that silken tofu could be made into cutlets!  I always assumed that the instruction on the box declaring DO NOT FREEZE meant that freezing silken tofu just wasn't done.  But lo and behold, the Mori-Nu website debunks this myth and suggests turning leftover silken tofu into a tasty entree.  I took a cue from this one night and decided on marinated barbecue-flavor tofu cutlets.
The last bottle of commercially-made barbecue sauce we had was almost empty (and turned out to have high fructose corn syrup in it, yick!), so I went for a homemade version.  The recipe in Veganomicon was the least sugary, most authentic "smoky" variety I could find, and it made the entire house smell like molasses and liquid smoke while it cooked.  Can we say win?  Because it was made of win.
This is so easy that it's almost embarrassing to call it a recipe.  But here it is!  Serve these with whatever strikes your fancy: baked potatoes, mashed potatoes, steamed greens, green beans, roasted veggies, you name it.  Or use them in a sandwich.  Or on pizza.  Or…
BBQ-Marinated Tofu Cutlets
serves 2-3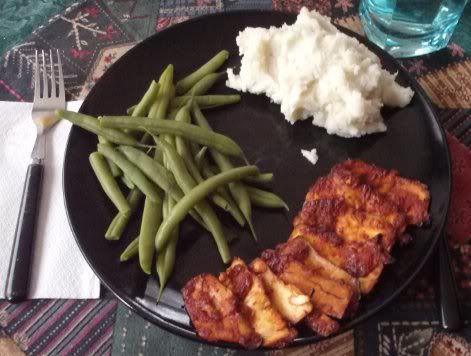 Ingredients
1 cup your favorite barbecue sauce, homemade or store-bought
1 box (or most of a box) extra-firm Mori-Nu silken tofu, drained
Directions
1) Carefully slice the tofu into 1/8in. thick slices.  Wrap the sliced block of tofu in wax paper, put it in an airtight container, and freeze at least overnight.
2) When ready to use, remove the tofu from the freezer.  Either leave it in the container and thaw at room temperature or remove from the container and the wax paper and thaw it in the microwave.
3) Place the thawed cutlets in a shallow bowl and add the barbecue sauce.  Turn gently to coat (I used a large burger flipper).  Refrigerate for at least one hour to marinate, turning occasionally.
4) Preheat the oven to 350°F.  Line a cooke sheet with parchment paper and place the cutlets on it, spooning the barbecue sauce over them as necessary.  Reserve a bit of the sauce for later.  Bake for 15 minutes.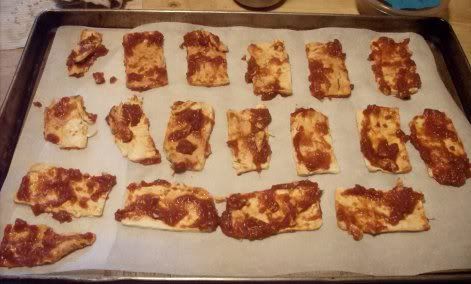 5) Remove the cutlets from the oven, turn, and cover with the remaining barbecue sauce.  Bake for another 15 minutes or until firm.  If you want to make these a little crispy around the edges, change the oven to broil for the last few minutes of cooking.