I already went on at length about how much I love anise.  I associate anise with Easter the way most people find peppermint synonymous with Christmas.  But another Easter treat that was always present in my house had nothing to do with anise at all.  No, this one had to do with ricotta cheese.  A lot of ricotta cheese.
I have a confession to make: I love ricotta cheese.  The texture of it grossed me out when I was a kid, but as I got older I grew to enjoy it as a part of lasagna, stuffed shells, pasta bakes, and even as a pizza topping.  Were I not lactose intolerant, I'm pretty sure it's one of the things that would have been hard to give up upon going vegan.  And this Italian Easter tradition is one of the reasons.
Meet ricotta pie.

Ricotta pie is a traditional sweet Italian pie that my mom made every Easter, and apparently my grandmother did as well.  It's meant to be served as either breakfast or dessert, but I remember it mostly as breakfast food.  The original recipe that's been in our recipe box for years calls for ricotta cheese, eggs, cooked cream of wheat, heavy cream or evaporated milk, and sugar for the filling.  Decidedly not vegan!

Yesterday I took a crack at veganizing this.  Because again, I must confess…I love ricotta pie and have missed it like crazy ever since I had to give up dairy.  There's something about the not-quite-creamy texture and sweet flavor that make it uniquely enjoyable.  This first test came out pretty close, but didn't quite hit the nail on the head.  With a few tweaks, I think I'll have a recipe I can share!

The challenge of veganizing this all in the ricotta.  Vegan ricotta is easy enough to make, but it tends to be savory.  Savory is not the goal with ricotta pie!  So I took my favorite tofu ricotta recipe from Veganomicon and started experimenting.  I was shooting for the moist, creamy/curd-like texture of dairy ricotta, but with a flavor more suited to having sugar added later on.  I think I got it just about right, give or take a teaspoon of lemon juice.  The trick will be getting it to taste less like tofu and more like ricotta.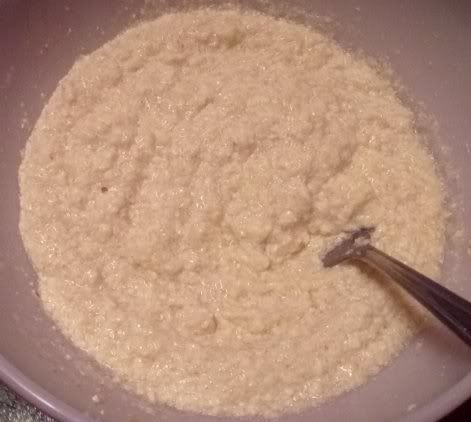 In place of evaporated milk in the filling, I used coconut milk.  That was a good decision!  It has just the right amount of creaminess and sweetness for this pie.  I could have used a little more sugar, as I remember the flavor being very sweet.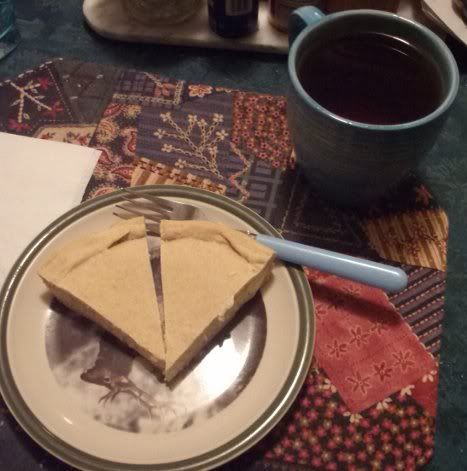 The crust was the furthest off from what I remember.  I'm not sure if it was the egg replacer or if I used too much flour and not enough nondairy butter, but it was thicker and not as crumbly as I wanted it to be.  Next time I'm going to shoot for a more pastry-like crust; buttery flavor and flaky texture would be the perfect complement to the sweet "ricotta" filling.
All in all, I had a lot of fun playing around with this recipe.  I hope to have a properly veganized version ready to post before Easter, which means baking another test pie and tasting it.  Dirty job, right?
As a side note, I found this recipe while poking around Google last night.  It's a very similar concept, but made with a rice mixture instead of cream of wheat and flavored with citrus.  I'd like to try it sometime, perhaps with wheat berries instead of rice, to see how close it comes to my mom's traditional pie.
Question for the comments: Is there an Easter recipe that you're dying to veganize?