Chili served over quinoa is an awesome combination, and that's exactly what I wanted for dinner yesterday.  But none of the various chili recipes I've made in the past sounded quite right.  Then I remembered this awesome recipe from the Cook Vegan Lover blog.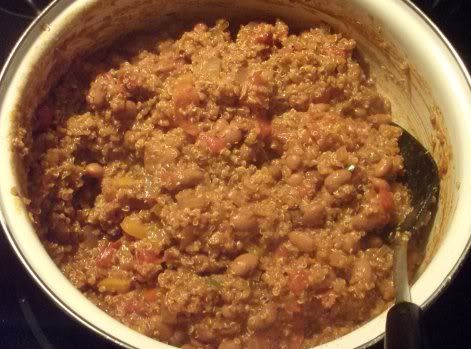 It has everything I wanted, including classic chili flavors, a touch of heat, and heaps of tasty quinoa.  I wound up tweaking it a little bit for personal taste and to account for ingredients I didn't have:
added 1 cup of chopped colored bell peppers
used 2 garlic cloves instead of garlic powder
added 1/2 of a fresh minced jalapeño
increased the oil to 1 tbsp to accommodate the extra ingredients
decreased the cumin to 1/2 tbsp
used fire-roasted diced tomatoes instead of the kind with chiles
used pinto beans, because I had a craving for them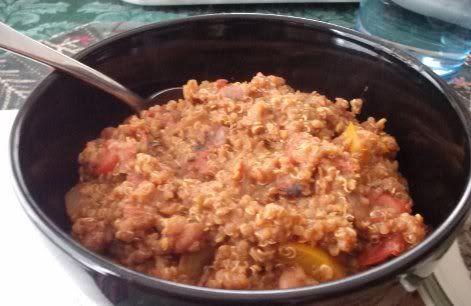 Two big thumbs up for this recipe!  The only thing I would do in the future would be to add more chili powder, basically because I am a huge fiend for chili powder.  Everything else was perfect.  I'm a fan of the flavor of fire-roasted tomatoes in chili, and I like the curious overtones that cocoa powder brings to the mix.  The quinoa makes for a thick, hearty chili that, as my mom remarked, "looks like chili"–so you could definitely feed this to omnis and get a postivie response.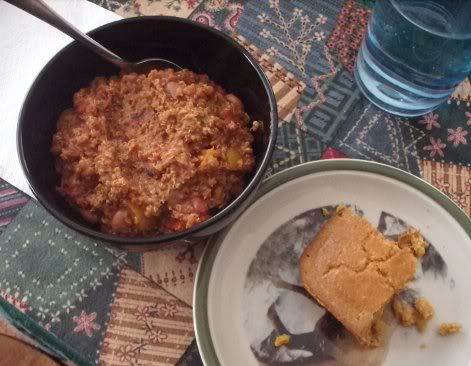 While the chili was cooking, I whipped up a batch of cornbread from The Joy of Vegan Baking since I hadn't tried that particular recipe yet.  It uses a combination of nondairy milk and white vinegar to make "buttermilk," which I used to do with regular milk before I went vegan.  It's a neat trick and makes the texture of the finished product very much like something made with actual buttermilk!  I swapped the sugar with maple syrup and it was delicious.  Crusty outside, moist inside…we'll be snacking on this in my house for a while!