File this one under "odd but delicious!"  While looking for something new to make with seitan, I stumbled upon Cameroon-Style Seitan and Spinach in Vegan Fire & Spice.  In the continued absence of any spinach in the fridge, I pulled out the kale again to use as a substitute.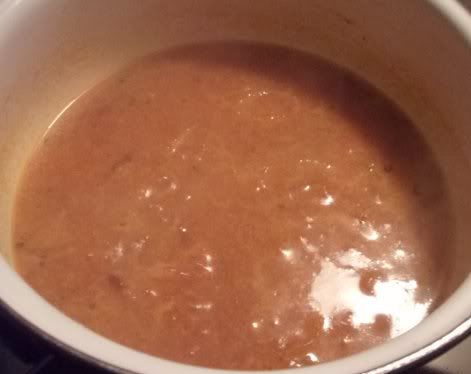 The sauce for this had me both wary and intrigued.  It called for sauteed onions, vegetable broth, tomato sauce (the pasta kind, not the kind in a can), cayenne, and of all things, peanut butter.  It was a bizarre combination that I couldn't help trying.  Just a few minutes into cooking time, I was hooked.  Ingredients that had no business going together started giving off a very appealing smell as they simmered, making my whole kitchen smell like peanut butter and seitan.

This is one of those dishes where the seitan and greens get cooked separately from the sauce and are added in later.  The kale was already blanched, so I just squeezed the water out and chopped in up a bit.  Heating everything up together at the end helped blend the flavors–and boy what flavors they were!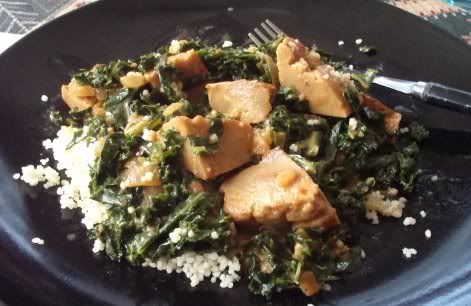 I served this with a little couscous and wow.  Another amazing dish from the mind of Robin Robertson.  The peanut butter didn't lend a peanutty flavor at all.  I can't really describe how it did taste, but it was delicious.  There was something about the combination of hot seasonings and the peanut butter that made it all work.  And since I already love just about anything with peanut butter in the sauce, there was probably no reason to be wary at the outset.
The kale worked out so well that I'm not sure I would want to try this with spinach.  It doesn't seem like the relative sweetness of the spinach would do anything to improve the dish, although I'm open for giving it a shot when spinach is in season around here.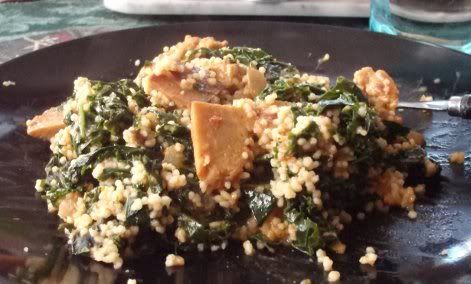 Question for the comments: What's the weirdest flavor combination you've ever had, and was it good?