I don't really have anything to write in this post other than these recipes.  There were a couple slices of Not Meatloaf leftover that needed accompanying side dishes, and this is what I came up with.  They're both very, very easy and would go well with just about anything.  Enjoy!
And don't forget to enter to win a copy of the awesome vegan blog 'zine, Vstream!  The contest is open until next Tuesday (March 29th), so there's still plenty of time to get entries in.
Lemony Steamed Potatoes
serves 4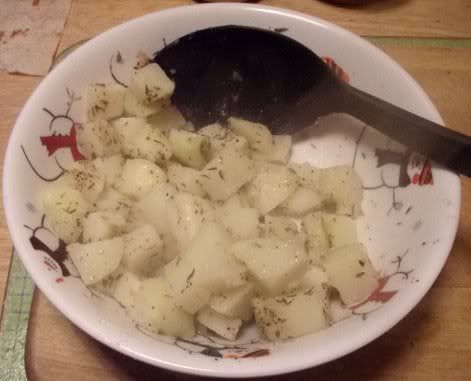 Ingredients
1 1/2 lbs. potatoes, cut into small chunks
1 tbsp. lemon juice
1 tsp. dried thyme
salt & pepper to taste
Directions
1) Place a steamer basket inside a large pot with about 1 inch of water in the bottom.
2) Add the potato chunks and steam, covered, for 15-20 minutes, or until a fork passes easily through the largest chunks.
3) Transfer potatoes to a mixing bowl and add the lemon juice, thyme, and salt and pepper to taste.  Toss gently to coat.  Serve warm.
Simple Roasted Brussels Sprouts
serves 4-6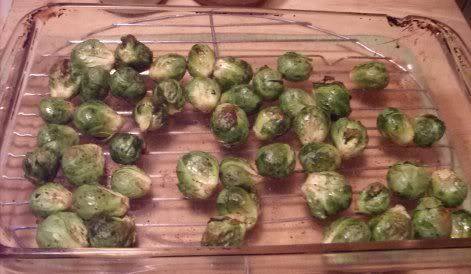 Ingredients
2lbs. brussels sprouts, washed and stemmed
1tbsp. olive oil
salt & pepper to taste
Directions
1) Preheat the oven to 425°F.
2) Place the brussels sprouts in a glass baking dish.  Drizzle with the oil, add salt and pepper to taste, and stir to coat.
3) Roast for 15-20 minutes, stirring occasionally, until bright green and tender.  Serve hot.