One of the things I never, ever liked at any point in my dietary journey was meatloaf.  Despite the fact that my mom's recipe includes a ton of garlic and spices, the idea of a loaf of meat was always a turn-off for me.  Add to that my aversion to the texture of ground beef, and meatloaf was a definite no every time.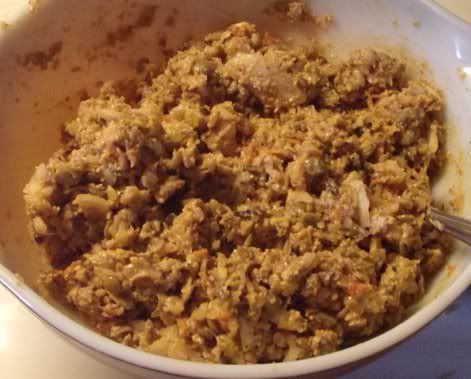 Given that fact, I can't say what first possessed me to try the "Not Meatlof" recipe on VegWeb.  Maybe it was the opportunity to use lentils, which I hadn't yet tried at the time.  Maybe it was the intriguing combination of ingredients.  Whatever the case, I'm glad I went for it.  I fell in love with it from the start, and since my mom and brother also enjoyed it, Not Meatloaf quickly became a family favorite.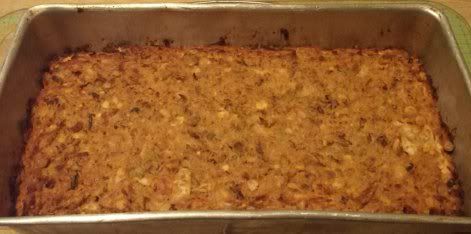 It's a bit of a time-consuming recipe, but worth every minute!  Lentils and brown rice are used in place of ground beef, along with wheat germ and bread crumbs as binding agents.  Ketchup, crushed tomatoes, and shredded carrot add a reddish tinge reminiscent of traditional meatloaf while onion, hot sauce, liquid aminos, nutritional yeast, thyme, and vegan Worcestershire sauce provide the flavor.
When I put my loaf together this time, I substituted a wild rice blend for the brown rice and Newman's Own "Sockarooni" pasta sauce for the crushed tomatoes.  I still don't have any dry bread crumbs, so I tossed some partially stale bread in the food processor and that did the trick!  The wild rice lent a nice, nutty bite to the whole thing…definitely a modification worth repeating.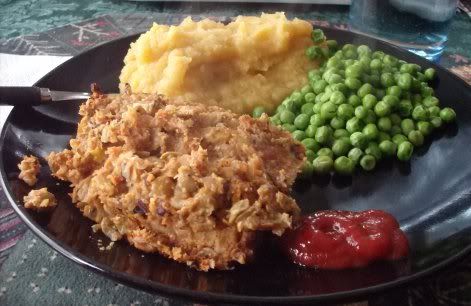 This is really versatile when it comes to what you can serve with it.  Mashed or baked potatoes go well, as would any green veggie from asparagus to kale.  A huge mound of roasted veggies would be good, too!  I took a cue from Veganomicon and pureed some rutabaga with almond milk and maple syrup and cooked up some peas since we haven't had any in a while.  A little cinnamon on the rutabaga was a nice touch!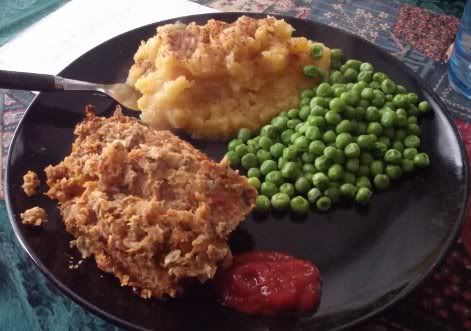 All in all, a hearty and enjoyable meal.  It doesn't make me wish that I had eaten more meatloaf in the past (quite the contrary), but I am glad that Not Meatloaf is so amazingly tasty.  Just one side note: it doesn't "cook through" and become firm the way actual meatloaf does.  But if you can't stand the idea of slightly squishy food, browning it under the broiler for a few minutes at the end of cooking time helps dry it out a little.
P.S.  If you do try it, leave a comment and let me know what you think!