I'm sure by now anyone who reads this blog with any regularity is sick of me babbling about how much I love noodles.  But I'm back at it, this time because of the "Cheater Pad Thai" recipe out of the Happy Herbivore Cookbook.
There are a LOT of recipes for vegan pad thai out there, several of which are in other cookbooks I own.  But inevitably there's always something I don't have, one or two little ingredients that would make or break the recipe.  The co-op has a fantastic pad thai of their own, too, which I get on occasion for a quick meal.  But this time I finally decided to make it myself.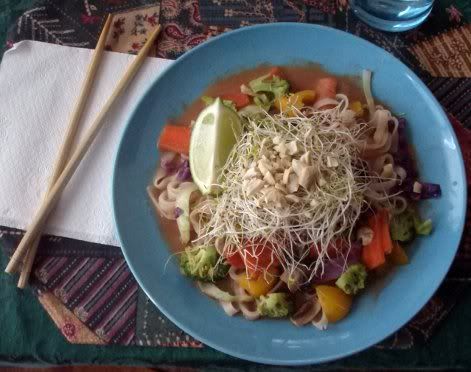 This recipe?  So. Easy.  The sauce came out a little on the thin side, but I suspect that was my own fault.  Lacking sweet Asian chili paste, I improvised with red curry paste, water, and agave nectar…using a little too much water.  Other than that, I was very happy with the outcome.  (Had I thought to serve it in bowls, it wouldn't have been a problem at all.)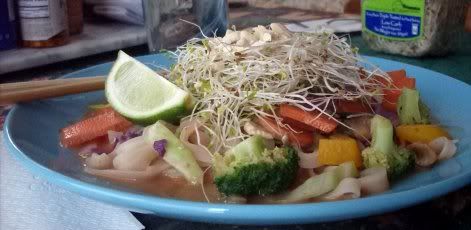 As you can see, I steamed a whole bunch of veggies to mix in with the noodles: mushrooms, cabbage, carrots, broccoli, and colored bell peppers.  And yes, I did go out and buy a lime and some sprouts especially to make this.  They were alfalfa instead of bean, but they still made an awesome garnish along with a few crushed cashews.
And really, who can argue with spicy peanut butter sauce?