I used to hate cauliflower.  And not the way most kids hate vegetables.  Cauliflower is the only food I ever remember literally gagging on.  I did try to eat it at least once more after that experience, but never managed to get past whatever it was that made me dislike it so much.
Which is why I'm completely baffled as to how I managed to come to a point where I'm actually excited to have it in the house and try it in new recipes.  Somewhere along the line, I've gone from being completely repulsed by cauliflower to loving it.  I even eat it raw in salads now!

So why am I babbling about cauliflower when this post is titled "Shallots Meet Millet?"  Behold roasted cauliflower and shallots, part of a recipe from 1,000 Vegan Recipes that brings together these two ingredients with cooked millet and peas.

I'm not entirely sure why, but this recipe called for a 3-to-1 ratio of broth to millet rather than the 2- or 2 1/4-to-1 I'm used to.  When I cook millet for myself, I aim for a drier, fluffier result than I got here.  The millet for this came out more like cream of wheat, but I think that might have been the point?  Either way, it tasted just fine so I'm not going to complain!
Before serving, the roasted veggies are mixed in with the millet and peas to create a rather nice visual effect.  I love the flavor that roasting gives to veggies, and the cauliflower was no exception.  This was also my first time eating shallots!  Roasting them made them caramelize a bit, which I think was the perfect introduction to their unique taste.  I don't think I have to say that the combination was a winner–but it really was!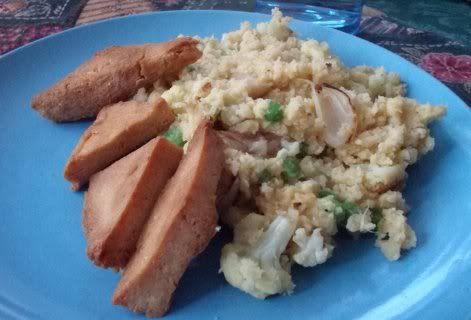 To round this dish out, I cut some triangular tofu cutlets, marinated them in a mixture of liquid aminos and garlic powder, and roasted them in the oven along with the shallots and cauliflower.  Roasting tofu cubes the same way and stirring them right into the millet would also be good, I think.  All in all, another successful Robin Robertson recipe!