I've made the Veganomicon chickpea cutlets several times. but never with any kind of sauce.  I have a couple of hangups with making sauce specifically for a meal.  One, I tend to flip out a little when there are a lot of dirty dishes, so the thought of an extra pan puts me off; and two, I haven't entirely gotten over my fear of condiments with calories.
However, I love mustard.  I don't know if I've mentioned this before, but during the height of my eating issues, I developed an almost perverse love affair with mustard.  This hasn't really gone away.  I put mustard on sandwiches, dip pizza crust in it, slather it on veggie burgers…I figure it's not that big of a deal since mustard isn't going to hurt me.
That said, it should come as no surprise that the first sauce I decided to pair the cutlets with was, you guessed it, the mustard sauce from the same cookbook.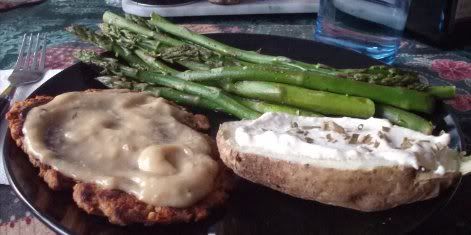 This all came about, believe it or not, because asparagus was on sale.  My mom and I both love asparagus, and often it winds up as a simple, steamed side dish to something else.  This time, though, I went for the lovely balsamic roasted asparagus recipe in the Happy Herbivore Cookbook.  Also simple, but incredibly tasty!  It was easy to make; just roast the asparagus in the oven, serve it, and drizzle with a little balsamic vinegar.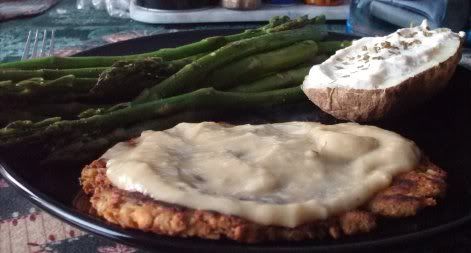 Along with a baked potato, all of this made for an elegant-looking meal with great flavor.  This is something I think could easily be served to skeptical omnivores with good results.
As a side note, this was the first time I didn't have trouble with the texture of the chickpea cutlets.  I don't know if having the (absolutely delicious) mustard sauce on top helped or what, but they just seemed better somehow.  Crisp on the outside, chewy on the inside–perfect for eating with a knife and fork.
Whether it was the sauce or not, I'd make it again in a heartbeat.  It was amazing.