Few things scream "comfort food" the way potatoes do.  Baked potatoes, mashed potatoes, french fries, hash browns…there's something about the versatile, starchy nature of the potato that keeps you going back for more.
Perhaps this is why the baked potato soup with potato wedge "croutons" in Veganomicon caught my eye.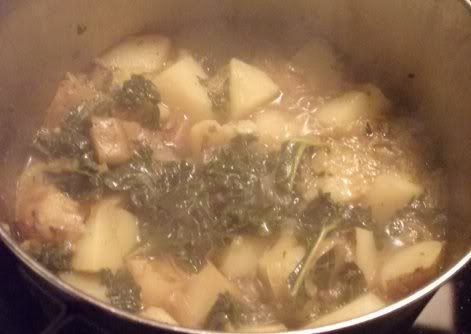 Basically, it's a big pot of baked potatoes, made into a legitimate meal by addition of kale.  You bake the potatoes first before adding them to the soup, hence "baked potato" soup!  Some onions, garlic, vegetable broth, thyme, and sage make for a simple but flavorful seasoning.  Near the end of cooking time, you get to stick a potato masher in the pot and squish up about half of the potatoes, which is a lot of fun.

There really wasn't much to preparing this recipe.  I took the time to bake the required amount of potatoes in the oven, something I rarely do but thought was worth it.  (Side note: it was!)  I also had to use frozen kale from our garden instead of fresh, so I reduced the amount a bit to account for how much kale cooks down during blanching.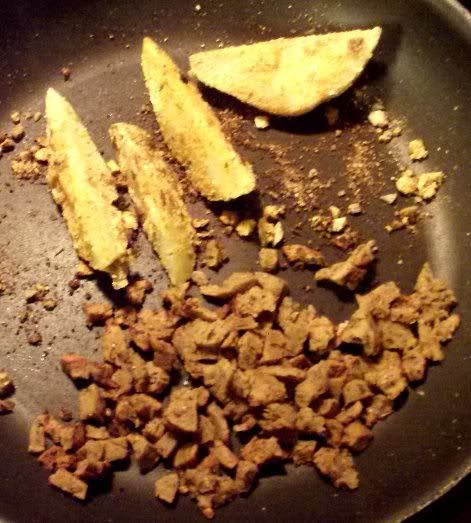 The fun part about this soup is the potato wedges.  Before putting everything in the pot, a few pieces of baked potato are reserved, dredged in seasoned cornmeal, and crisped in a pan while the soup is cooking.  The recipe also makes mention of using tempeh bacon as a garnish, but lacking that I crumbled up a bit of veggie sausage and cooked it along with the potato wedges.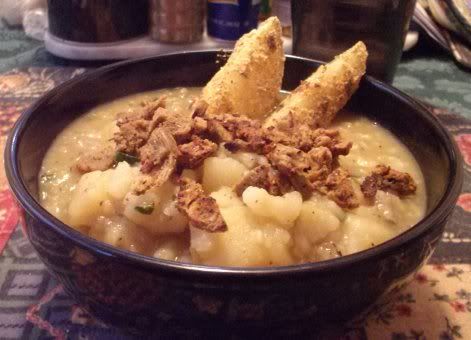 What a soup!  It's just as warming, hearty, and "comfort-food-y" as the name suggests.  Given that it's still quite wintery around here, it was the perfect sort of dish to cap off yet another cold day.  And it was such a filling soup that there was no need to serve anything on the side…it already had everything in it to make a great meal!
Question for the comments: What's your favorite way to prepare potatoes?