After spending yesterday morning ogling ourselves silly at the Eric Carle Museum, Mom and I decided to try out Esselon Cafe in Hadley for lunch.  We got coffee and tea there the last time we were in MA, both of which were excellent.  The coffee is roasted on the premises twice a week, meaning awesomely fresh taste!  However, the service leaves something to be desired.  Read on…
Lindsay over at Cook. Vegan. Lover. reminded me that Esselon's menu has several vegan options, and after checking them out online, it was decided that they sounded quite tasty and worth a try.  Before even arriving, I knew I wanted the veggie burger: a homemade patty of lentils, beans, and walnuts.  Talk about yum.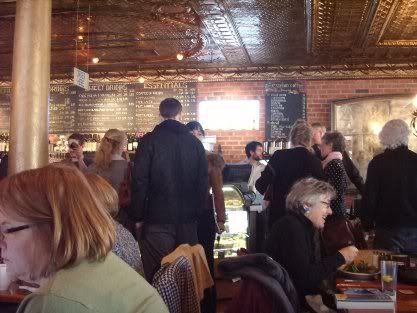 Esselon is a pretty popular destination and was already filled with the lunch crowd when my mom and I arrived.  Despite being a bit of a tight fit, I love the layout of the cafe.  Wood tables and chairs, a lot of wood around the walls, classic chalk board menus, and a bunch of little eclectic coffee-shop-type touches, including a velvety curtain around the doorway make for a fun and inviting atmosphere.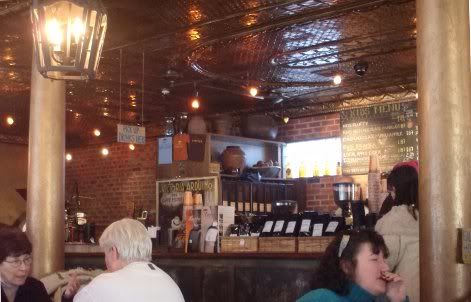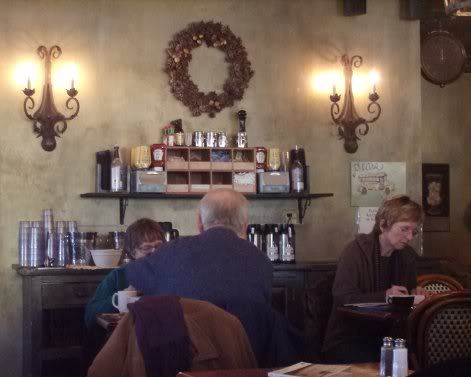 We found out that you place your order at the counter and get a table number, then the food is brought to the table when it's ready.  This was the point at which I started to have a problem with Esselon.  The menu is pretty specific that items marked with a "v" can be "made vegan upon request."  Some have non-vegan ingredients that need to be omitted.  Due to my lactose intolerance, I always ask questions when faced with that sort of scenario, so I questioned the man working behind the counter as to whether the roll the veggie burger came on was vegan.  Though he did check for me, his response was less than respectful–he gave me a rather smartass remark about yeast being a "living organism."  And, despite the fact that the menu also clearly states that anyone with food allergies should let the staff know, the man was less than gracious about my request that nothing used to prepare diary products be used to prepare my order as I can get extremely ill from cross-contamination.  I felt like he couldn't have cared less whether or not I got sick from eating there.
When the food arrived, it arrived in quantity.  The sandwiches were huge and came with a mixed greens salad, which is usually served with a non-vegan balsamic vinaigrette (it contains honey), but you can get it without the dressing.  My mom got the portabello mushroom sandwich, which had spinach as one of the garnishes.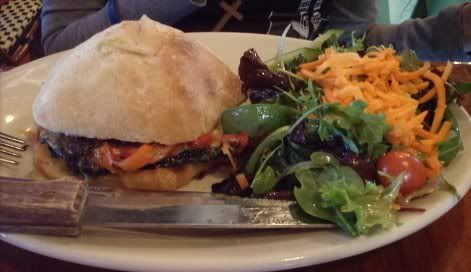 My veggie burger came with lettuce, tomato, and mango chutney.  I also ordered us a side of french fries to share, which was huge.  I can't imagine what a full order would be like!  (Just as a side note, the homemade ailoli that the fries come with contains egg, which is not stated on the menu.)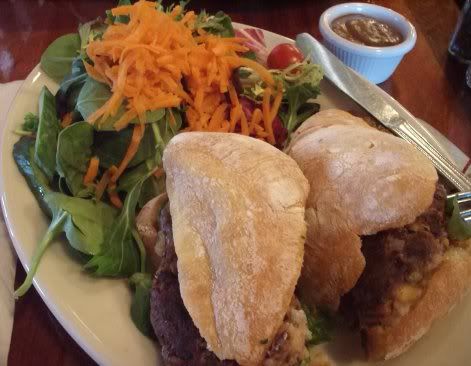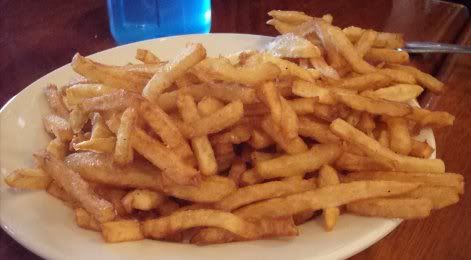 Verdict?  Amazing veggie burger.  I love vegan burgers made with beans and nuts, and this was no exception.  It had good texture and flavor with none of the weird aftertaste that sometimes comes with processed boxed varieties.  The mango chutney was deliciously sweet and a nice change of pace from something like mustard or vegan mayo.  The roll (which, yes, was vegan!) was great, too.  Crusty on the outside, soft on the inside, just the way I like bread!  And, as my mom pointed out, the salad was a real salad.  Over the years, we've been to several restaurants where the "salad" was nothing more than bagged iceburg lettuce mix with a slice of red onion.  But Esselon's salad is a nice blend of mixed greens with shredded carrot, cherry tomatoes, and cucumber slices.  All in all, it was a rather astonishing amount of food for one meal.  I split my burger, salad, and fries in half and saved some for later.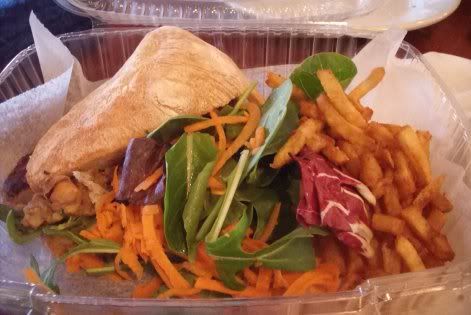 My only complaint about the food was that it turned out to be a little more greasy than I'm used to.  As I've mentioned, I don't eat out a lot, so that could be a factor in how sensitive I am to things like that.  It didn't affect the flavor at all, and I enjoyed my leftovers for dinner just as much as I enjoyed lunch.
After lunch, we couldn't resist popping down into Northampton to check out Sweeties.  When driving by the day before, Mom noticed a sign in the window stating "Vegan Chocolates Are Back!" , a happy coincidence considering that I've been craving vegan truffles since Valentine's Day.  All I have to say is…it was a great idea to stop by.  My truffle craving has been satisfied.
I want to add that we returned to Esselon this morning for coffee, expecting the same friendly service we got yesterday morning from a very nice young man working there.  Instead, we were greeted by the same man who was less than friendly at lunch and were promptly overcharged for our coffee.  When I went back to complain about having to pay over $1 more than I paid yesterday, I was told that they always charge for a large when people bring their own mugs, a practice that I have never seen enforced anywhere else.  A man who I can only assume was a manager tried to tell me he could give me fifty cents, while at the same time telling me that he couldn't do anything about my having been "charged for the wrong size" the day before.
When I asked for my money back, he told me that most other places charge over $4 for an Americano (which is what I ordered) and that they roast their coffee on premises…neither of which is a viable excuse, as I have never paid $4 for an Americano in my life and we have a local roaster at home who also doesn't charge anywhere near that kind of price.  I felt very much like we were deliberately overcharged because of my questions at lunch yesterday and we will not be going back.
My overall verdict on Esselon is that the food, coffee, tea, and atmosphere are great, but a good deal of the staff are not friendly or accommodating.  It's sad when people who run popular spots become so confident in that popularity that they're okay with alienating customers with specific needs.  I don't recommend this place to fellow vegans or anyone with a food allergy.