The last time I ventured over to Northampton, MA with my mom, a restaurant called Karma was just getting ready to open on Main Street.  The promise of raw food, green juice, fresh elixirs and smoothies made me want to eat there, but unfortunately we had to return home before their opening day.
This time out, we made it our first restaurant to try!  Upon walking in, we were greeted by a beautiful interior and a sense of calm.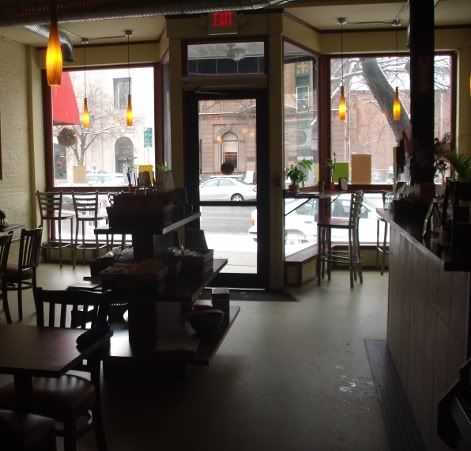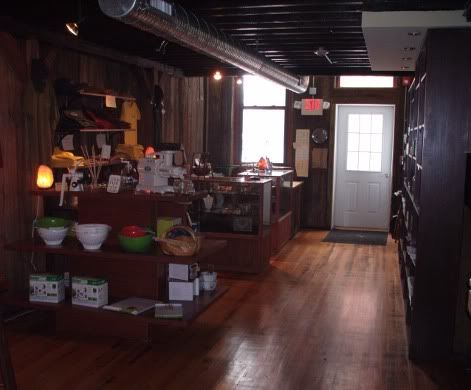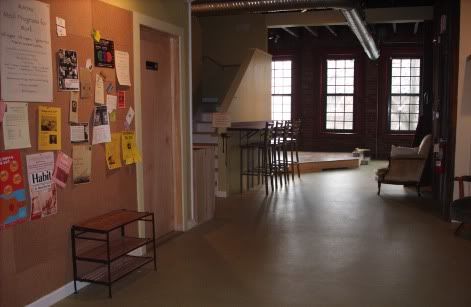 The building is three floors of lovely wood and subdued paintwork with a small retail area in the back of the first floor offering things like loose tea (hand-mixed by an herbalist on staff), raw coconut aminos, soaps, books, and juicers.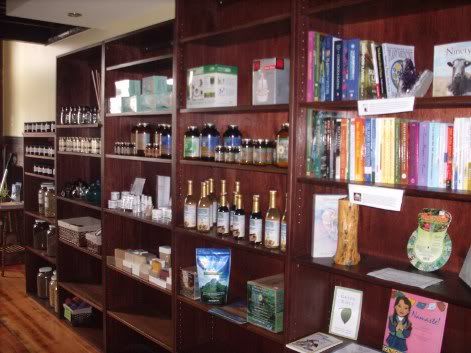 It was nice just to walk around and look while waiting for our food.
Speaking of the food, Karma's new menu apparently rolled out over the weekend, which I didn't know until we got there.  It's a bit less extensive than the one I checked out on their website, but still boasts quite a tasty selection.  The lunch menu had a few raw choices along with things like soup, salad, and sandwich options.
I knew I wanted a sandwich, but it was hard to decide on which one!  I finally settled on the marinated portabella mushroom sandwich on gluten-free focaccia.  My mom went with the raw butternut fettuccine.  Both arrived promptly, with beautiful presentation.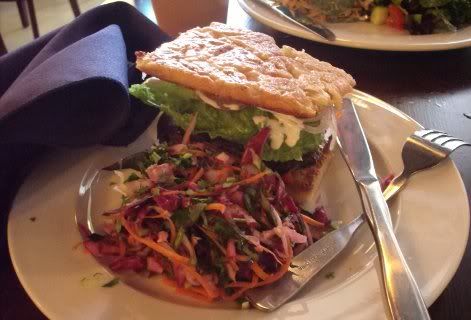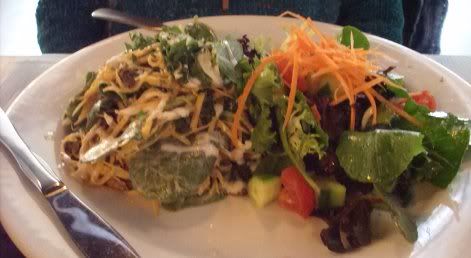 Rather than the standard "fries or onion rings" fare of most places I've eaten, the sides at Karma are fresh and raw.  The sandwich came with a ginger slaw composed of red cabbage, carrots, and other shredded veggies…with, of course, a gingery zip!  Mom's butternut "pasta" came with a fresh veggie salad topped with shredded carrots.  We ordered a pot of delicious lemon tea to share, and it complimented everything well.
Both dishes were delicious.  The mushroom on my sandwich was firm and flavorful, and the bread was nicely soft.  There was definitely nothing about it that gave away the fact it was gluten-free!  The dressing was light and there wasn't too much of it, which I like.  (I'm not a fan of heavy or overdone condiments.)
For dessert, Mom and I shared a piece of spicy chocolate tart, which was so good that we ate it before I got a chance to take a picture.  All the desserts at Karma are raw and vegan, meaning no scary ingredients and no weird, heavy feeling after eating them.  The tart was served on a large plate with a drizzle of chocolate sauce on the side.  And the name was very appropriate…there must have been cayenne in it because it had a heck of a zip.  Being a fan of spicy chocolate, I loved every bite.
After lunch, we took a minute to look at the retail areas.  Up by the register, there was a display of Hurraw! lip balm, which I had heard about but never seen before.  Even though it was a little pricey ($4.10 before tax), I couldn't resist getting a tube of the root beer variety before we left.  In case you're wondering, if you like root beer, it's totally worth it!
Overall, I had a nice time eating at Karma.  I didn't feel too full or sick after having both lunch and dessert, which is a big thing for me when eating out.  So often, "out" meals are heavy or salty…not so at Karma!  The food, including dessert, is fresh and delicious, and the prices are reasonable.  It's a relaxing place to sit and eat.  I would definitely go back!
(UPDATE: Unfortunately, I won't be able to visit Karma again. They closed in 2012, but you can still find them on Facebook.)