You would think that continuing love affairs with both noodles and baked pasta dishes would have led me to make a noodle casserole at some point in the past.
Nope.  Even after flipping past some recipes in various cookbooks, I never tried one.  Never, that is, until a few nights ago.
It should come as no surprise that the recipe I settled on was from 1,000 Vegan Recipes.  Even if I wasn't a total Robin Robertson fangirl, it's hard not to find a good recipe in a book that huge.  I was in the mood for some wheat meat, so I settled on a seitan noodle casserole.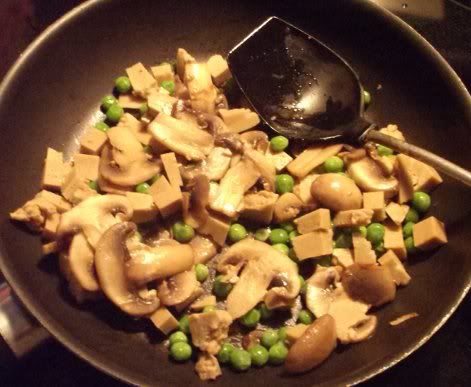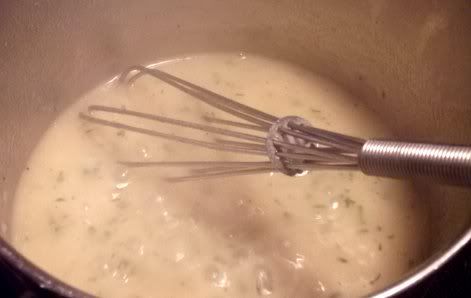 Despite requiring a few pans to cook all the components in, it was pretty easy to put together.  I used whole wheat linguine for the noodle part and cooked up the rest according to the recipe.  Sauteed mushrooms get mixed with seitan and peas, while a simple sauce of Earth Balance, flour, veggie broth, parsley, and thyme is cooked separately.  There were some amazing local mushrooms at the co-op the last time I was there, which I was glad to have to include in this dish!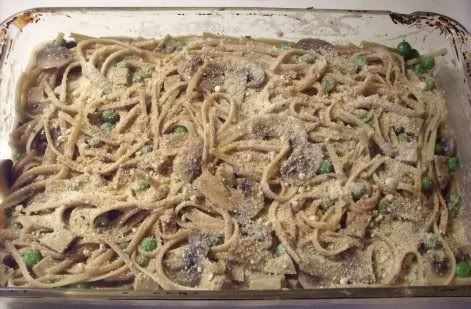 Much as I love the layers involved in something like lasagna, I also love baked pasta stuff where you can just dump everything into the casserole dish and mix it up.  Such was the case with this, which then got sprinkled with vegan parmesan and a little paprika before going into the oven to bake.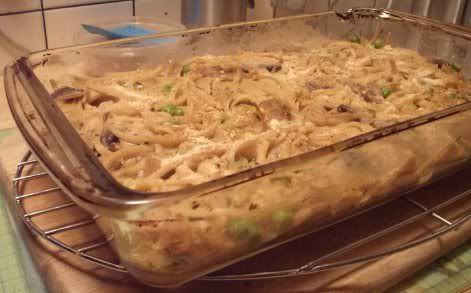 Can we say yum?  Yeah.  It was more than yum, it was genius.  The kitchen smelled wonderful while the casserole was cooking, and the noodles around the edges got just a little bit crispy, which I love.  The funny thing is, I've always liked things like pan-fried noodles that result in that bit of crunch, so I really have no idea why I never baked noodles before.
As a side note, between the classic nature of the sauce and the combined flavor of the seitan and mushrooms, this is the perfect sort of dish to serve omni friends or relatives who are still wary of vegan food.  The flavor is very savory and enjoyable, plus the peas add a little green element so you don't have to feel "guilty" about eating a big pile of baked noodles.  But really, isn't it kind of hard to feel guilty when you're scarfing a plate of warm pasta?