Is it coincidence or pure foodie fate when a random magazine purchase turns out to have a whole article full of soup recipes by none other than Robin Robertson?  I don't know, but I was pleasantly surprised to find just that when I picked up the February issue of VegNews at Barnes & Noble last week.
As I have mentioned on multiple occasions, I'm a huge fan of Robin Robertson.  I own several of her cookbooks and have had several more out of the library at various points in time.  Her recipes never fail to impress me.  Even the most time-consuming have turned out to be worth the effort.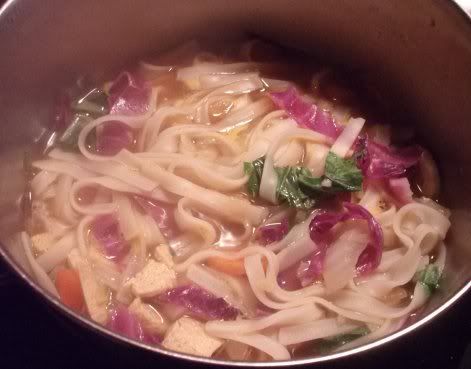 Her Asian Noodle Soup wasn't time-consuming at all.  In fact, it was pretty darn easy!  As with a lot of Asian recipes, it started out with onions, garlic, and ginger, sauteed to achieve the flavor and smell I've come to associate with some of my favorite Asian food.  The soup broth was easy, too; just some vegetable broth, soy sauce, and hoisin sauce added to the sauteed seasonings and simmered.  I hadn't had hoisin sauce in ages and had forgotten just how good it is!
Since the bulk of the soup was made up of rice noodles and sliced tofu, I steamed red cabbage, bok coy, mushrooms, red peppers, and carrots separately while the soup was simmering.  Then I added them in with the noodles and the tofu near the end of cooking time.  I had been planning to serve them as a side, but I'm glad I mixed them in.  They took on the flavor of the broth and rounded the whole thing out nicely.

The recipe called for chopped scallions, cilantro, and sprouts as garnish.  I loved the idea of sprouts on top of soup so much that I bought some specifically for this recipe.  My brother used to grow his own sprouts all the time, but I haven't had a chance to get in the habit yet myself.  I've missed having them around!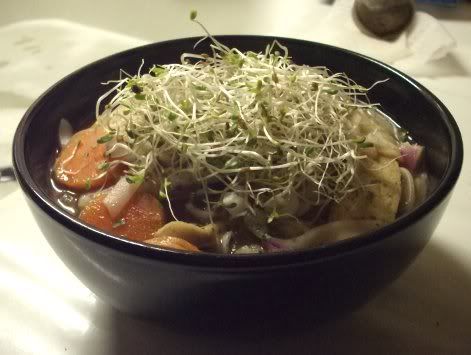 I'm not sure there are words for how great this soup was.  The broth had a distinctly Asian flavor from the hoisin and soy sauces as well as from the rice vinegar added in during the final five minutes of cooking.  There was supposed to be Asian hot sauce, too, but lacking that I used a little red curry paste and that worked out just fine.  The sprouts added a bit of a green crunch to the softness of the noodles and firmer texture of the steamed veggies.  It was fun to eat with chopsticks and a very warming winter meal.  Two thumbs up!