The vegan taco is a complex (plant-based) creature.  There are a lot of recipes out there using various ingredients to try and replicate the taste and sometimes the texture of heavily-seasoned ground beef.
When I was omni, I was pretty particular about what I would and wouldn't eat when it came to meat.  I think I've mentioned before how ground beef and I never really got along.  Tacos were the grand exception.  My mom was able to cook up a batch of taco meat that would blow your socks off just from the smell.  When I go to make tacos, it's that flavor I'm looking for.  I have a problem with TVP tacos because they're way too close to the feel of ground beef for comfort, and tend to have a soy-ish aftertaste.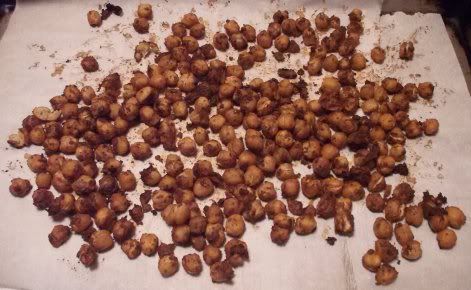 So I was quite happy to discover the recipe for chickpea tacos in the Happy Herbivore cookbook.  I was first turned on to roasted chickpeas during World Go Vegan Week, when I made them as one of the refreshments for the talk I gave on veganism.  I haven't had a chance to make any since then, but I love the concept.  And since the basis of this recipe was to coat a bunch of chickpeas in an intense taco spice blend and roast them, I couldn't resist.
The kitchen smelled amazing when these were roasting.  It was akin to the way I remember tacos smelling when my mom made them, but without the rather distressing beefy undertones.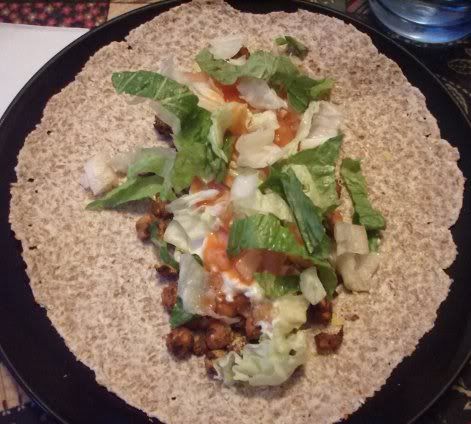 Instead of taco shells, I put the chickpeas in a wrap with tomatoes, shredded lettuce, salsa, and vegan sour cream (recipe from the same cookbook!), sort of like a burrito or soft taco.  I thought about making a cheesy sauce, but didn't get around to it.  Something with a cheddar or jack flavor would have been pretty awesome, though.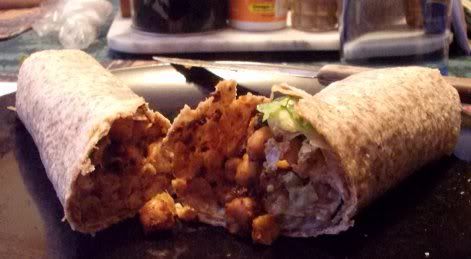 Even without "cheese," these were great tacos!  I wound up roasting the chickpeas for about 35 minutes and the texture was very nice.  Firm but not too hard, with a little crisp around the outside where the taco seasoning cooked on.  I think the next time I make these I'm going to spring for the blue corn tortilla shells pictured in the book.  Because, y'know…blue corn.
Question for the comments: What's the best vegan taco recipe you've tried?  Why is it your favorite?